Europe
Russia accuses US of direct involvement in Ukraine war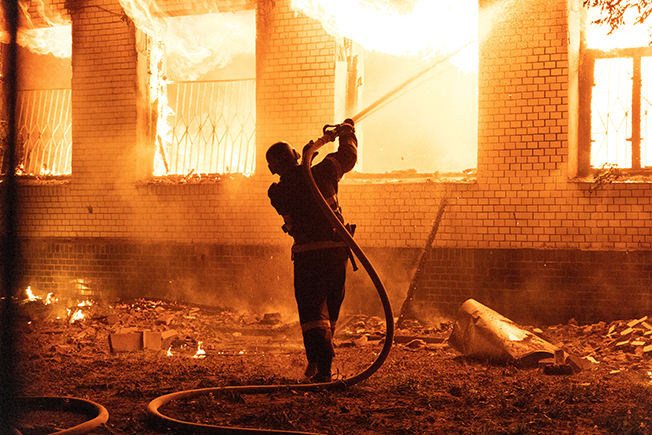 Russia on Tuesday accused the United States of direct involvement in the Ukraine war, but the first ship carrying Ukrainian grain to global markets since the invasion of Moscow continued its transit to Lebanon without incident.
Russia said it responded to comments by Vadim Skivitsky, Ukraine's deputy director of military intelligence.
How Kiev used the US-provided long-range HIMAR rocket launch system, based on what he called excellent satellite imagery and real-time information.
Skivitsky told the British Telegraph newspaper that there had been talks between U.S. and Ukrainian intelligence services prior to the attack, and that Washington had an effective veto over the intended target, but that U.S. officials would not directly He said he had not provided target information for the
Despite the fact that the Russian Defense Ministry, led by a close ally of President Vladimir Putin, has repeatedly claimed that Washington does not want a direct confrontation with Russia, limiting its role in the conflict to arms supply. He said interviews showed that Washington was directly involved.
"All this unequivocally proves Washington's direct involvement in the Ukrainian conflict, contrary to claims by the White House and the Pentagon," the Russian Defense Ministry said in a statement.
"It is the Biden administration that bears direct responsibility for all Kyiv-sanctioned rocket attacks against residential areas and civilian infrastructure in populated areas of Donbass and elsewhere, resulting in mass deaths of civilians," the Ministry of Defense said. brought about," he said.
There was no immediate reaction to the Defense Department's allegations from the White House or the Pentagon.
Ukraine and the West have accused Russia of carrying out devastating missile strikes against civilian targets on an almost daily basis. Both have denied intentionally targeting civilians.
The supply of sophisticated long-range weapons systems to Ukraine from Western powers is seen as essential for the Kyiv military to turn the tide of a war in which Russia relies heavily on long-range artillery fire on urban areas.
safe passage
Russia's verbal attack on Washington comes after Turkey said the first ship carrying Ukrainian grain to arrive safely in Istanbul on Tuesday night since Russia's aggression stifled exports more than five months ago. It was done after stating that
The vessel, which departed from the Ukrainian port of Odesa on Monday to Lebanon via Turkey under a safe passage agreement, is on track for further departures that could help ease the burgeoning global food crisis. I have high expectations.
Turkey expects about one grain ship to leave Ukrainian ports every day as long as the safe passage agreement remains in effect, a senior Turkish official who wished to remain anonymous said on Tuesday.Read full text
The United Nations has warned that war in Ukraine could lead to multiple famines this year.
Monday's voyage was made possible after Turkey and the United Nations brokered a grain and fertilizer export deal between Russia and Ukraine last month. February 24th.
Ukrainian President Volodymur Zelensky called the ship's departure "the first positive signal" in a speech late Monday night, but there is no way to draw any conclusions or predict how things will unfold. I warned you that it was too early.
"Don't have the illusion that Russia will simply refrain from trying to interfere with Ukrainian exports," Zelensky said.
Ozkan Altumbudak, Turkey's representative at the Coordination Center set up to oversee the resumption of Ukraine's grain exports, said Tuesday that the ship, the Sierra Leone-flagged ship Lazoni, will dock in Istanbul on Tuesday evening. said it was planned.
The only problem so far has been minor delays due to bad weather, he said. The ship carrying 26,527 tons of corn was scheduled to arrive in Istanbul around midnight local time.
It will then be inspected by Russian, Turkish, Ukrainian and UN officials under the terms of the Safe Passage Agreement before continuing its journey to its intended final destination, the Port of Tripoli, Lebanon.
But there are other hurdles to overcome before millions of tons of Ukrainian grain are spilled, including clearing mines and building a framework for ships to safely enter conflict zones and receive cargo. .Read full text
Known as Europe's breadbasket, Ukraine hopes to export 20 million tons of grain stored in silos and 40 million tons from the ongoing harvest, initially in Odesa and nearby Pivdeny and Chornomorsk. From there, help clear out the silos for new crops.
Russia has called Lazoni's departure "very positive" news. The company has denied responsibility for the food crisis, saying Western sanctions have slowed exports.
Russia and Ukraine have accused each other of laying landmines floating around the Black Sea that endanger shipping.
Also on Tuesday, Russia publicly expressed solidarity with China, which enjoys a close partnership with Taiwan, ahead of US House Speaker Nancy Pelosi's possible visit to Taiwan.
Russian Foreign Ministry spokeswoman Maria Zakharova called the possible visit a "provocation" and said Russia would support Beijing's one-China principle and oppose Taiwan's independence "in any way". .
https://cyprus-mail.com/2022/08/02/russia-accuses-us-of-direct-ukraine-war-role/ Russia accuses US of direct involvement in Ukraine war