America
Russian President Vladimir Putin compares himself to Peter the Great to justify Russia's invasion of Ukraine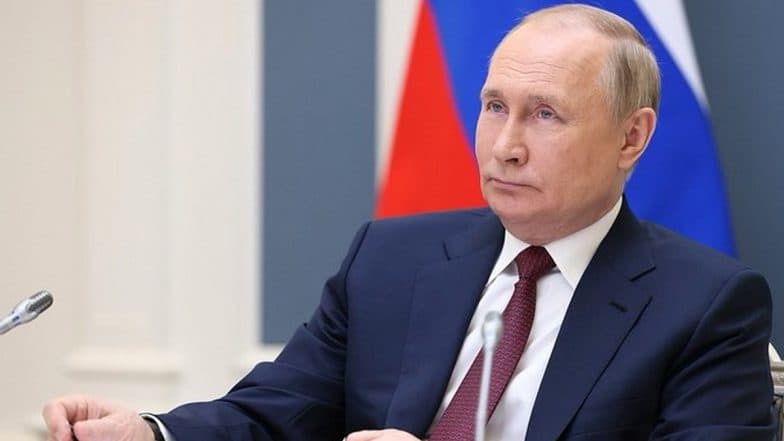 St. Petersburg, June 10: Russian President Vladimir Putin made a favorable comparison with Peter the Great, the Russian monarch in the late 17th century, to justify Russia's invasion of Ukraine, the media reported.
During a visit to an exhibition dedicated to the first Russian emperor on Thursday, Putin sought to liken Peter the Great's conquest of Sweden in the 18th century to his own military invasion of modern Ukraine, CNN reported. ..
Putin argued in his comments that Peter the Great was not conquering, but was fighting for a legitimate territory of Russia.
He continues to draw similarities to today's war in Ukraine, and because Ukraine is not a legitimate sovereign, Russia's recent military action (his army destroyed the city of Ukraine and sins thousands of people. A country that has suggested that (killing men, women and children) is justified, but in fact the territory of Russia. Russia-Ukraine War: Estonia bans Russian ships from entering national ports..
President Putin went on to add that European countries did not initially recognize St. Petersburg as a Russian, which is comparable to the current situation of Russian-occupied Ukrainian territory, including Crimea, and the US and European allies are Russians. CNN reported that it did not recognize it as.
According to Ukrainian officials, fierce battles have continued to control the city of Severodonetsk in eastern Ukraine, and no major changes have been reported in the past day.
"The situation in Severodonetsk is very tense," Roman Vlasenko, head of the Severodonetsk junta, told Ukrainian national television, CNN reported.
(The above story was first published on June 10, 2022 at 5:25 pm IST. Log on to our website for news and updates on politics, the world, sports, entertainment and lifestyle. please. latestly.com).
function loadAPI() {
var js_fb = document.createElement('script');
js_fb.src="https://connect.facebook.net/en_US/sdk.js#xfbml=1&version=v3.3&appId=224265671451116&autoLogAppEvents=1″;
document.body.appendChild(js_fb);
}
var a_fb=1;
document.addEventListener('scroll', function(e) {
if(a_fb == 1){
a_fb=2;
loadAPI();
//vdo
(function(v,d,o,ai){ai=d.createElement('script');ai.defer=true;ai.async=true;ai.src=v.location.protocol+o;d.head.appendChild(ai);})(window, document, '//a.vdo.ai/core/latestly/vdo.ai.js');
//colombai
try{
(function() {
var cads = document.createElement("script");
cads.async = true;
cads.type = "text/javascript";
cads.src = "https://static.clmbtech.com/ase/80185/3040/c1.js";
var node = document.getElementsByTagName("script")[0];
node.parentNode.insertBefore(cads, node);
})();
}catch(e){}
}
});
https://www.latestly.com/world/russian-president-vladimir-putin-compares-himself-to-peter-the-great-to-justify-russias-invasion-of-ukraine-3810482.html Russian President Vladimir Putin compares himself to Peter the Great to justify Russia's invasion of Ukraine