Asia
Russian rockets smash Kharkiv as gas flows resume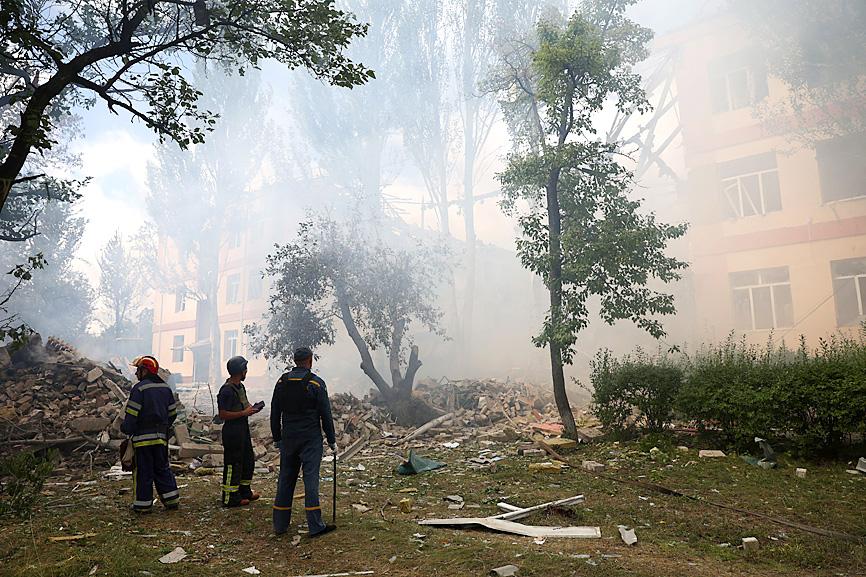 Russia's bombardment yesterday struck Ukraine's second-largest city, Kharkiv, after Moscow announced that it would expand the purpose of the war despite the resumption of Russian gas flow to Europe through the Nord Stream pipeline. ..
Attacks on eastern cities damaged by weeks of Russian bombardment took place after a 10-day scheduled work on the Nord Stream gas pipeline, which spurred fear of permanent blockages.
The Governor of Kharkiv said two people were killed and 19 were injured, four of whom were in serious condition.
A strike a day ago killed three people in Kharkiv, where parts of normal life have returned in the past few weeks after Ukrainian troops pushed Russian troops out of the city.
"We call on the inhabitants of Kharkiv to be very careful. The enemy is firing chaotically and cruelly at the city. Stay in the shelter!" Kharkiv Governor Oleg Sinevbov wrote on social media. ..
Ukrainian presidential adviser Mihairo Podriak said the mosque in Kharkiv was also damaged after Russia's President Vladimir Putin visited Iran this week for "contempting" Russia.
In Kramatorsk, in the Donbas region of eastern Ukraine, where fierce fighting is taking place, a school was also attacked, which Ukrainian authorities said was used as a storage for food aid.
"I have been working at this school for 16 years. It was my home," said school deputy director Olena Schmachenko, 56.
Russian troops invaded Ukraine on February 24, killing thousands and leaving millions out of the war, causing economic turmoil.
The Ukrainian central bank said yesterday that it was devaluing hryvnia by 25 percent.
"The new hryvnia interest rate will become an economic anchor and increase resilience in uncertain circumstances," the bank said in a statement.
Meanwhile, the resumption of gas supply from Russia to Europe via Germany took place the day after Europe announced emergency measures to avoid Russia's energy "blackmail."
The EU's latest penalties package on Wednesday targeted gold exports and asset freezes at Sberbank, Russia's largest bank.
The German government was concerned that Moscow would not reopen the Nord Stream pipeline faucet after Russia severely curtailed the flow of retaliation against sanctions in recent months.
A Nord Stream spokesman said yesterday that "it's working" without specifying the amount of gas supplied.
Comments are moderated. Please save the comments related to the article. Remarks containing abusive and obscene language, personal attacks of any kind, or publicity will be removed and users will be banned. The final decision is at the discretion of Taipei Times.
https://www.taipeitimes.com/News/front/archives/2022/07/22/2003782202 Russian rockets smash Kharkiv as gas flows resume