Middle East
Rystad on Nigerian FPSO explosion:'No impact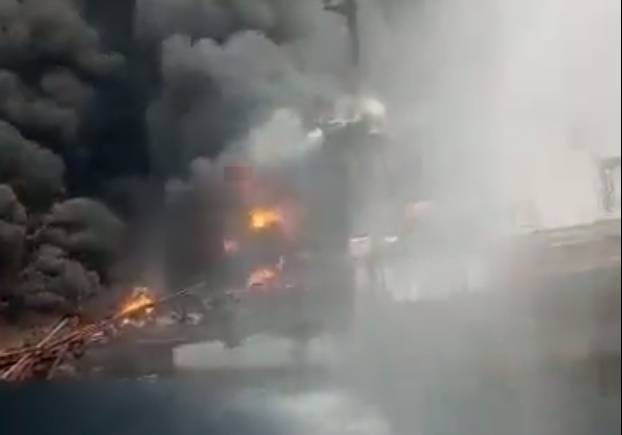 The Trinity Spirit FPSO, run by SEPCOL in Nigeria, exploded on Wednesday, began to burn, and sank according to a video shared on social media. However, according to Rystad Energy, the incident is not expected to affect Nigeria's production, as the unit was not in production at the time of the explosion. However, the environmental impact has not yet been quantified.
According to a Reuters report on Wednesday, industry sources operating in Nigeria's oil sector said the FPSO had about 50,000 barrels of storage but wasn't pumping crude oil from the Ukpokiti field in the OML108 block when it exploded. Stated.
Zhenying WuA senior analyst at Rystad Energy, a Norwegian-based energy industry intelligence company, said in a Thursday note: , Because the unit was not producing at the time of the explosion.
"The main concern is the potential environmental impact of the situation, which will be difficult to quantify until the dust has subsided and the aftermath has been assessed."
Mr. Wu said: "The Trinity Spirit Floating Production Storage and Shipment (FPSO) vessel has been located in the Ukupokiti oil field off Nigeria and has been in operation since 1997.
The vessel is capable of producing liquids at a rate of 22,000 barrels (bpd) per day, and the unit has not produced oil since 2019 and may only be used for storage purposes.
The vessel's maximum liquid production rate of 22,000bpd represents less than 2% of total Nigerian crude oil production based on the 2021 1.3 million barrel / day level.
Trinity Spirit was able to store up to 2 million barrels of crude oil, but it is unlikely that it was in full operation or was fully stored at the time of the accident.
The impact of the Trinity Spirit spill on the spill is likely to be significantly lower than the recent major offshore oil spill, the Deepwater Horizon crisis that spilled approximately 4.9 million barrels into the Gulf of Mexico in 2010.
The hull of the Trinity Spirit was originally built in 1976 and the latest upgrade was made in 1997, emphasizing the age of the ship.
The Trinity Spirit was at the end of its life. This raises concerns about other similar vessels and operations in the Nigerian waters as they operate in minimally regulated areas. "
At the time of the explosion, there were 10 passengers, but no deaths were reported, according to Reuters.by Three people were at risk of death and seven other workers were missing, according to a report by Guardian.ng on Friday.


https://www.oedigital.com/news/494050-rystad-on-nigerian-fpso-explosion-no-impact-on-oil-price-environmental-implications-still-hard-to-quantify Rystad on Nigerian FPSO explosion:'No impact