USA
Sacramento-area residence on the market with indoor basketball courtroom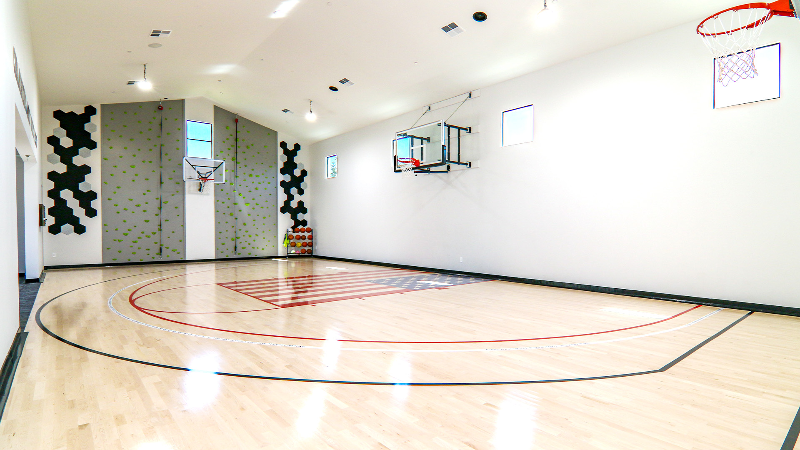 Dustin Smith built an indoor basketball court of dreams, and they came to play — neighborhood kids, college hoop prospects, NBA players.
They have all made their way to his El Dorado Hills home to work out on the professional-grade, custom hardwood court.
"We've been fortunate enough to have some common connections to folks at the Sacramento Kings, and we've had some local players who live here in El Dorado Hills," Smith, president of Smith Development & Construction Co., said during a tour of the home 30 miles northeast of Sacramento, California.
One of those players is Ben McLemore, who now plays for the Portland Trail Blazers but still owns a house in El Dorado Hills.
"We're pretty lucky to have folks like Ben come through once in a while and just pick up the ball, play with our kids, play some hoops," Smith said. "Aside from some of the NBA players, we have (youth) basketball players, Division I college players and college prospects that train here as well."
Some pro players like the court because it's private and, unlike a public gym, nobody will be asking them for autographs or selfies, Smith said.
"Here, you don't get that,"he added. "You get privacy."
Smith's gym "is unreal," McLemore told Mansion Global. "For someone who hoops, or a family into sports, this is it."
Visitors who are not inclined toward basketball might prefer to tackle the 20-foot-high rock-climbing wall that Smith erected at one end of the 1,900-square-foot gym. The large space also includes an exercise room adorned with autographed sports memorabilia.
Smith's modern Scandinavian-style home, which spans 4,739 square feet (not including the gym), is on the market for $3.995 million. He is planning to build another home nearby for his family — with an even larger basketball court.
The four-bedroom, five-bathroom residence sits in a gated community at 2893 Capetanios Drive. A tidy front courtyard, oversized steel-and-glass front door and vaulted foyer present the first dramatic impressions of the house. The open floor plan and soaring ceilings create a sense of expansiveness. A great room opens out to the pool and spa area through 30-foot pocket doors.
Besides the basketball court, the blueprint of the house stands out to listing agent Nick Sadek of Nick Sadek Sotheby's International Realty.
"It's the design of the house, the style of the house that a lot of people are liking: the Scandinavian design, the modern farmhouse look," he said. "It's a single-story open floor plan, but it's just a comfortable, usable house that people can live in and enjoy."
The house has served as a showcase for Smith's custom home-building business.
"Customers (are) looking and liking what he's done and he's building custom homes for them," Sadek said.
The court is a selling point, but not the only one.
"If you have kids that are in basketball, in youth sports, I think it's a selling point, but also just the house itself," he added. "It has an amazing backyard. Dustin's been able to use every square inch to maximize the usefulness of the property."
The gymnasium is the busiest room in the house. The well-lit, air-conditioned room also contains a 20-foot projector for game film, movie nights or playing on the golf simulator. Smith's 5-year-old daughter learned to ride her bike in the gym.
"My wife and I, still to this day, can't quite remember when we decided to add a gym," Smith said. "But obviously at some point we said, 'Hey, it's going to be a great idea.' We have used this more than any other space in the house."
The floor, impact-resistant walls, backboards and rims are all top-notch. Smith hired Robbins Sports Surfaces of Cincinnati to build the court's maple hardwood surface.
"It's got the same floor that 28 out of the 30 NBA teams play on," Smith said. "It's striped for both high school and college (three pointers), as well as the NBA."
Those stripes have stenciled on them inspirational quotes from some of the greatest NBA players: Michael Jordan, Larry Bird, Shaquille O'Neal, Steph Curry and "the late, great Kobe Bryant," Smith added.
Beyond the playing surface, Smith has some advice for people who want to build their own full-size indoor basketball court — factor in space to store equipment and make it fun by displaying sports memorabilia.
For Smith, that means a 1991 screenprint of Michael Jordan created by LeRoy Neiman that was displayed in the office of the NBA legend's foundation in Chicago, and a signed Luka Doncic jersey. His 9-year-old son is a big fan of the Dallas Mavericks star.
The Smith family entertains a lot so a gourmet kitchen with waterfall Quartz island, flush Thermador fridge and freezer, additional clear glass fridge, double steam ovens, two dishwashers, secondary kitchen and walk-in pantry comes in handy.
The primary suite showcases a glass fireplace, 10-foot windows, freestanding tub and a digitized shower with 3 heads.
A 44-foot-wide patio adds 1,000 square feet of outdoor living space.
One of the more fun details of the outdoor space is the viewing window into the swimming pool from a fire pit.
"It's pretty cool," Smith said. "It was definitely on the fly. We added an acrylic window, four-by-eight foot, looking from the swimming pool's deep end into a fireplace sitting area down below. When you're sitting at the hot tub (at the other end of the pool), you can actually see through the pool, through the window and see the fire pit. (It's) something fun for the kids. We have more little kids going down (to the pool's viewing window) and making funny faces and playing during all these sports events that we do here at the house."
This story was initially printed August 11, 2023, 9:30 AM.