Europe
Spanish cities with the best Christmas lights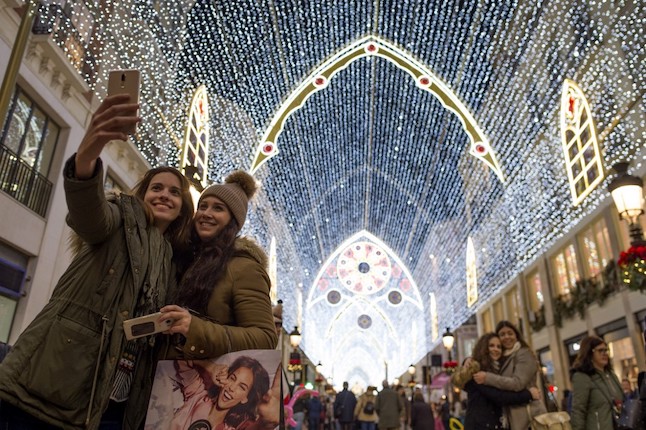 Spain puts on a great show during the festive time of the year, and many of its cities look especially Christmas-like with shimmering lights and pops of color. Perfect to visit if you want to see the best displays I will introduce some cities.
Due to the current energy and climate crisis, many cities in Spain have announced that they will be cutting back on their Christmas lights this year, while others have switched to LEDs instead. Some of the best cities for Christmas lights, such as Madrid and Vigo, claim not to cut back on their decorations, but they look as magical as ever.
Malaga
The Andalusian city of Málaga has one of the best festive atmospheres in Spain, offering spectacular displays of light and color. Calle Larios, the city's main shopping street, has become his one of Spain's most famous Christmas streets in recent years. There is an incredible show of light and music, and decorative elements that form arches over the road.
More than 500 streets around the city are lit up, and the cathedral also features a themed video mapping display.
Malaga's Larios Street is one of Spain's most festive streets. Photo: Thomas COEX/AFP
Madrid
It's no surprise that Madrid, the capital of Spain, is one of the best places to see the Christmas lights. The city uses more than 7 million LED lights to illuminate its central streets and some of its most iconic buildings.
The best places to see the lights include Puerta de San Vicente, Puerta de Alcala and Puerta de Toledo. More than 40,000 12-meter Christmas lights are installed each year between Gran Vía and Alcalá Street. Madrid's squares are also adorned with Christmas cheer, not just with illuminations, but with lots of twinkling trees. Plaza Mayor is he one of the busiest places in particular because it hosts the Christmas market.
Don't miss one of the city's most unique Christmas scenes. Naturaleza Encendida Exhibit at the Royal Botanic Gardens.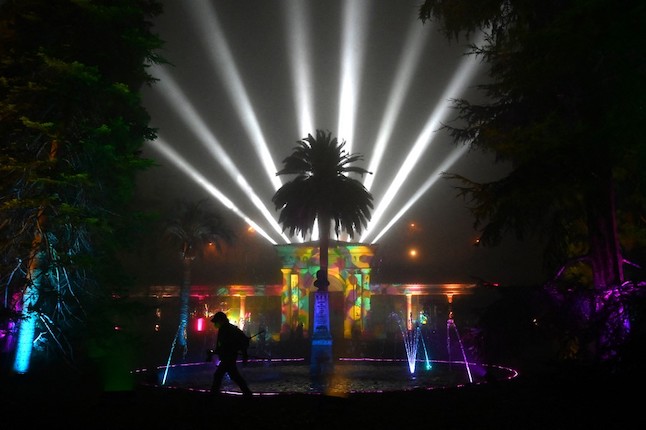 Visit the Royal Botanical Gardens of Madrid for a magical Christmas display. Photo: Gabriel Buis/AFP
Barcelona
The Catalan capital's Christmas lights stretch for 100km throughout its center, but you can still find sparkling displays in all its areas. One of the most striking areas is the magnificent Passeig de Gràcia, typically covered in shimmering swirls and reflective metallic butterflies that shimmer during the day. Iconic buildings such as Gaudi's Casa Batllo and Hotel Majestic also create magical displays with candles.
Plaza Catalunya is another spot that is flooded with light, especially around El Corte Inglés and all the way to La Rambla. Don't forget to check out the Christmas video mapping of the Recinte Modernista de Sant Pau, the city's UNESCO-listed modernist old hospital.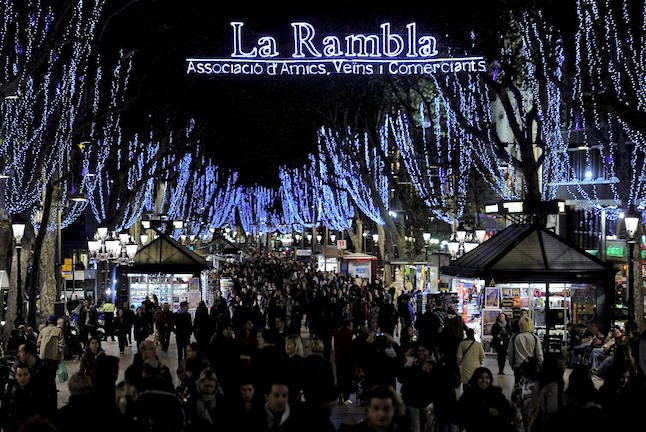 Barcelona's Las Ramblas turns into a winter wonderland. Photo: JOSEP LAGO/AFP
Vigo
Vigo may be one of the smallest cities on our list, but it's definitely a big city when it comes to Christmas. Mayor Abel Caballero loves this time of year and says he puts a lot of effort into decorating. Vigo spends most of his budget on Christmas decorations and for this purpose he has installed a system of over 11 million LED lights. Think colorful garlands, glowing figures, bright angels, glittery curtains.
One of the best places to see them is the city's Porta do Sol, where Vigo's giant Christmas tree is decorated.In the past, ten meters high Christmas baubles, giant presents between Gran Vía and Urzaise, a giant snowman, the bright star of Bethlehem by García Bourbon, the magical glowing castle of Policarpo Sanz Street.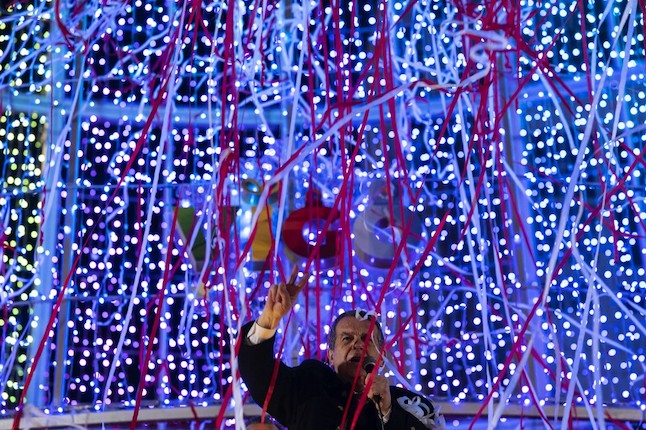 Mayor Vigo is a big fan of Christmas. Photo: Miguel Riopa/AFP
Zaragoza
Over the past few years, Zaragoza has spent a budget of around 700,000 euros to decorate its streets for Christmas, in order to give them color and Christmas sparkle. Alfonso I is one of his best streets, with over 100,000 LED lights creating a multi-colored ceiling above the road. Piazza Basilio also has a 22-meter-tall tree decorated with even more lights.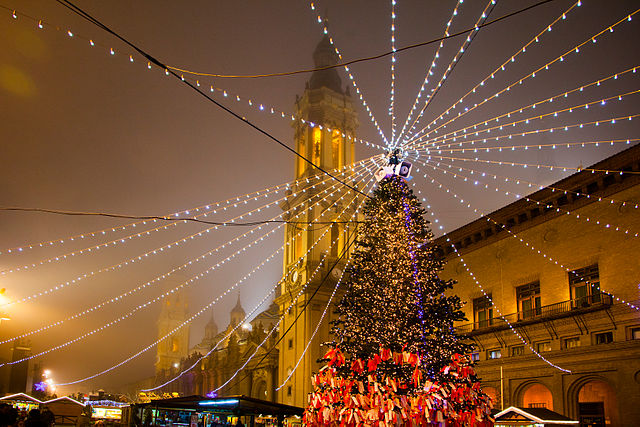 Zaragoza's Christmas display will not disappoint.Photo: Iramonf/Wikimedia Commons
Bilbao
The industrial city of art and design, Basque Country, is no exception. The streets of the city will be illuminated by about 500,000 LED lights that are about 8 to 18 meters high. Casco Viejo and its surroundings around Siete Calles are particularly attractive.
Look for the statue of Orenzero, the Basque version of Santa Claus. Santa Claus is a charcoal worker who comes to deliver presents to children on her Christmas Eve.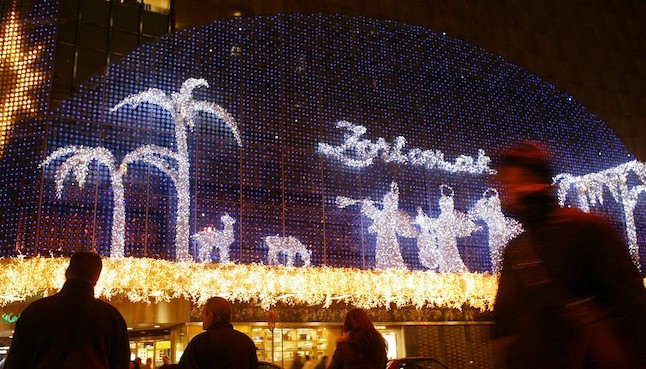 Bilbao's Christmas lights form a pictorial display. Photo: RAFA RIVAS/AFP
Santa Cruz de Tenerife
Tenerife's largest city is known for its vibrant nightlife, so it's no surprise that Christmas also hosts some great shows. About 140 streets and squares will be lit up for the season with about 3 million LED lights.
The decoration is usually There are 176 arches, 26,334 meters of colorful garlands and 686 Christmas symbols placed on lampposts.One year in the city A 90-meter tunnel with colorful lights streaming down.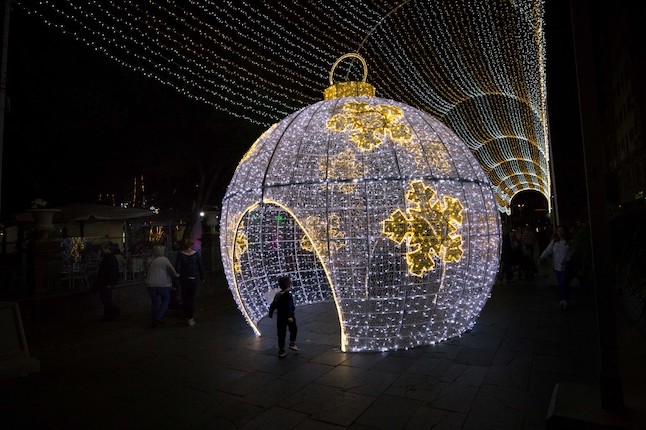 Kids will love seeing the Christmas lights in Santa Cruz de Tenerife. Photo: Desiree Martin/AFP
Seville
Like the capital of Andalusia itself, Seville's lights are classy and romantic, making it a special place to enjoy this time of year. It may not have as much lighting as nearby Malaga, but it does what it does.
The best places to see them are Plaza de San Francisco, Avenida de la Constitucion, Sierpes e Imagen, Tetuan, Laragna, Campana, Plaza del Salvador, Asuncion and Alfonso XII.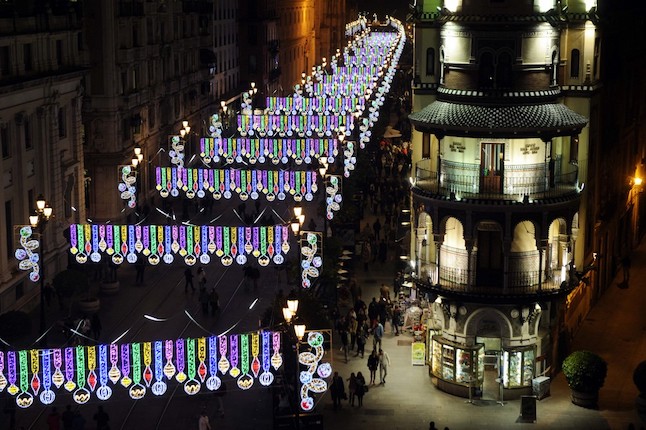 Head to Seville to see the elegant Christmas lights. PHOTO: CRISTINA QUICLER / AFP
Valencia
Valencia is another great Spanish holiday destination and puts on a great show with its Christmas lights. One of the most iconic parts of the Valencia holiday season is the video he mapping projected onto the City Hall.
Plaza de la Reina has a 3-meter structure made to look like an almond tree, with an ice skating rink and other festive elements such as Christmas concerts.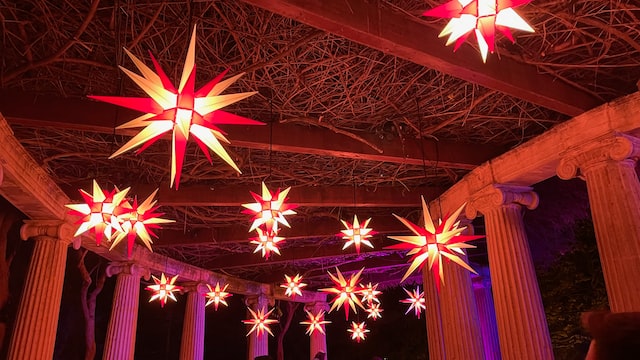 Head to Valencia this year to see its impressive exhibits. Photo: Valencia Igor Ferreira / Unsplash


https://www.thelocal.com/20221129/the-cities-in-spain-with-the-best-christmas-lights/ Spanish cities with the best Christmas lights