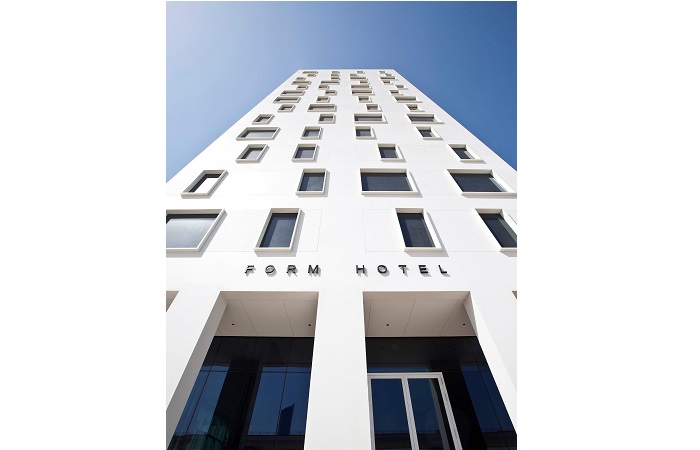 FORM Hotel introduces long-term stay contracts for summer vacations that are perfect for your family and you to stay at AED4500 for 30 nights.
Pack up your luggage this summer and enjoy a long stay in heaven with stunning views at Dubai's Foam Hotel. Defeat the heat in the best possible way, while experiencing unparalleled amenities and enjoying an enjoyable stay in our stylish and spacious rooms. This dreamy all-inclusive long-stay offer offers the opportunity to spend a fulfilling time with family and friends at this elegant boutique hotel.
Relax in an ideal spacious room and enjoy delicious food and drinks. Splash in the heat at FORM Hotel's terrace pool and enjoy beautiful views of Dubai Creek and the historic Al Jadaf area.
Satisfy your cravings at Foam Hotel's various eateries during the summer vacation. Long hill braIs a modern space brasserie that serves bespoke all-day meals, designed to serve interesting mocktails and terrace snacks for casual lunches and evening outings. boutique by FORM offers a variety of light meals, delicious juices and soft drinks day and night.
Enjoy a sumptuous full breakfast buffet. 35% discount on F & B, laundry and pool access from 8am to 8pm. Burn calories in a state-of-the-art gym that is open 24 hours a day. Chromecast, high speed Wi-Fi, Covered parking space with 24 CCTV security is another facility to keep you entertained and safe.
Book your stay at FORM Hotel Dubai AED 4,500 Make sweet memories that you will cherish for the rest of your life online, including all taxes for 30 days.Reservations are valid for stays from From June to August 2022.
Email to book [email protected] Or phone +971 43179000. Website: https://form-hotel.com
About Form Hotel Dubai
Form Hotel Dubai is the first and only hotel in the Middle East certified by the Design Hotel Group. It features timeless design and elements, spacious modern rooms and custom-designed furniture by contemporary artists. All space at FORM Hotel is intended to be much longer and more memorable than expected. This is where new friendships are born and what can be called home, where the cultural aspects of Dubai's heritage are embedded in architecture and interiors.
About design hotels
Design hotels are an exclusive portfolio of carefully selected, privately owned and operated hotels around the world, each with its own personality, personality and unique creative expression. Design hotels that integrate hotels around the world reflect the vision of an independent hotel owner. They represent the "original" that symbolizes hospitality rooted in genuine culture and a commitment to cutting-edge design and architecture. All selected hotels are symbolic in their own way and offer an individual hotel experience that reflects the passion of an independent hotel owner. Its attention to detail is reflected in its rich cultural credibility and sincere hospitality, founded by a thought-provoking design.
http://www.eyeofriyadh.com/news/details/a-spectacular-summer-staycation-package Spectacular summer staycation package