America
Sri Lankan High Commissioner Milinda Moragoda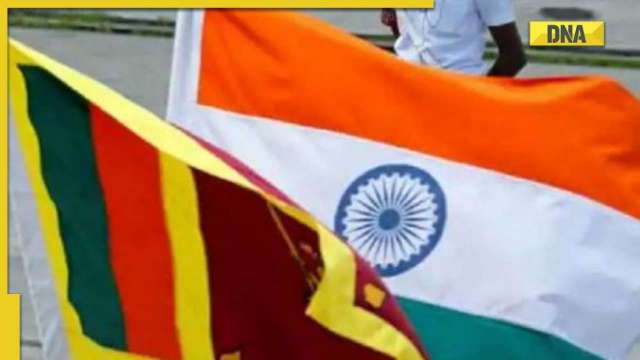 Sri Lanka's High Commissioner to India Milinda Moragoda has lauded New Delhi's support to his country which came without "condition" and the package was "extremely flexible". India last year gave financial support of USD 4 billion to Sri Lanka as the country went through a major economic crisis. Speaking to diplomatic correspondent Sidhant Sibal, High Commissioner Moragoda said, "India helped us to stabilise the economy, India reached out to the IMF and some of the bilateral partners like Japan."

India was the first creditor nation of Sri Lanka to support debt restructuring that will soon pave the wave for IMF bailout. The country requires support of all its major creditors, including China, to get the IMF support. On China extending its support for debt restructuring, he said, "China has given a letter but it is at the moment not sufficient to meet the requirements of what the IMF is expecting. So this discussion is still ongoing."

The high commissioner pointed to high level visits between the 2 sides including by Sri Lankan Petroleum to India and annual defence dialogue later this month. On the visit of Chinese spy ship Yuan Wang 5, the envoy explained that, "the lesson we have learnt is that we have to ensure that there is constant communication, unambiguous and frank communication"

This was the first TV interview of the high commissioner. He also spoke on Indian company Adani's investment in the western container terminal, cultural connect, implementation of the 13th amendment.

Q: What is the current economic situation in Sri Lanka?

Milinda Moragoda: Last year we had a big economic crisis, reasons for it are multifaceted and one was the fact that we had Covid pandemic. The Ukraine war had an impact but above all for years Sri Lanka has been living beyond its means. So we had a situation where we were not able to pay our debts. In fact, if you look at our revenue at 100%, our salaries of government servants, pensions are 70%, so 30% is left for other expenditures. If you take revenue again as 100%, 70% is used for payment of interest on our loans, so every year we start by borrowing an extra 40% to finance our other requirements like education, health, defence. So this is the crisis, so of course revenue has dropped, our exports dropped during Covid, our remittances which are an important part of our economy, tourism collapsed, our economy basically imploded. We had over borrowed, and we had not worked out enough ways to pay back. India stepped in very quickly, in January, when India saw that economy was weak and potentially collapsed, under PM Modi's leadership, Dr Jaishankar, Madame Nirmala Sitharaman, NSA Ajit Doval, they all basically helped to develop a package and the remarkable aspect of the package to me is that there were no conditions. It was extremely flexible, because if we had gone to any other institution, let's say even the IMF at that time, they would have wanted us to go through a whole process, they would have first evaluated the conditions. India instead, basically backed through different instruments. They provided us funding for our oil imports, for importing critical essential goods, food supplies, and medicines. They moved in when we could not move the clearance at the Asian clearing union, India supported us. As a result, over last year, India provided us with nearly 4 billion dollars, 3.9 billion dollars they provided us. So now we are trying to work with India on the next phase. India reached out to the international community, spoke to the world bank, to the IMF, Madam Sitharaman herself was in Washington encouraging the IMF to help us. Spoke to even Japan, that part of it, India did. Next stage where India got involved was with helping in debt restructuring. India was the first to provide the financial assurances which were requested. So now, we are discussing with India, role it can play in economic recovery, tourism, investments in Sri Lanka, and the Rupee trade because it can help us a lot as well. So I want to stress, the crisis is a serious crisis. It is still ongoing but last year the support India gave us provided us a complete social inclusion. We had political stresses, but it would have been a much bigger implosion, and possibly there would have been violence if India would have not stepped in at that time.

Q: You talked about IMF Bailout, when the bailout can happen? What is the status of China?

Milinda Moragoda: India was the first to agree, in fact India was the head of the Paris club and I must also mention that India was ahead in every turn. India helped us to stabilise the economy, India reached out to the IMF and some of the bilateral partners like Japan. Dr Jaishankar, Madam Sitharaman, NSA Ajit Doval were all involved under PM's leadership. India was first to agree, as far as the Paris club is concerned, they are now also supporting it. China has given a letter, but it is at the moment not sufficient to meet the requirements of what the IMF is expecting. So this discussion is still ongoing.

Q: Are you hopeful China will agree?

Milinda Moragoda: We have to see, we have to see how that will finally work out. The creditors are working together and we need that support from all the creditors to be able to work.

Q: The US and China have been making comments. US Diplomat Victoria Nuland made comments saying China is not able to provide the support? Your reaction to it?

Milinda Moragoda: I think each country is driven by their own compulsions. China has a different set of pressures. They have given credit to different countries. Sri Lanka is a small country in that context, but whatever they do here others will be watching. They have that to consider. Clearly there is a geo economic aspect to it, there is a geopolitical aspect to it. But as far as we are concerned, we are working with all the creditors, and we are extremely appreciative of the role India has played and is playing even now. EAM Jaishankar was in Colombo recently; he has now moved to the next level. India has helped in stabilisation, taken a lead when it comes to helping the international community. Now the focus is on recovery, how can we increase Indian investment, expand trade, maybe Rupee trade, trying to do trade in Indian Rupee. So India to that extent is focusing on the recovery that is important. While we are restructuring the debt, the economy has to recover otherwise we can't do anything. I think all the creditors we have to work with, equally we have to work on coming out of the crisis. There, India is doing the right thing. India is a few steps ahead in the game.

Q: EAM Jaishankar was in Sri Lanka, MOS MEA Muraleedharan is in Sri Lanka right now. How has EAM's visit helped to reset the relationship?

Milinda Moragoda: Dr Jaishankar brought an invitation to our president to visit India by PM Modi, so that will be happening in near future. We expect more visits from Indian ministers as well, there are ministers coming from Sri Lanka to India. Our Petroleum minister will be here, our foreign minister will be in Delhi probably for the Raisina Dialogue. I think there is a lot of movement at a high level, and the focus is on trying to get the economy moving again. On that India is doing what is required. I must stress again; India's success was always ahead. In stabilisation, India came ahead when it comes to the rest of the world. Then in the case of the international community, India gave leadership, and then in recovery now we are trying to work with India. Integrating our 2 economies would be a way for us to recover. India is going to grow over 6% and be the fastest growing country. Our economy shrank over 11% last year, it is expected to shrink maybe 3% this year. So if we can tag on with India in different sectors, tourism is one, renewable energy, electricity– if the Indian and Sri Lankan grids can be combined, we are looking at things like Rupee trade, setting up of a petroleum hub in Trincomalee. Dr S Jaishankar mentioned it in Colombo. We are trying to work with India on petroleum requirements. Your requirements for petroleum will grow by 50% by 2030, your refinery requirement will grow, so Trincomalee is ideally positioned to become an energy hub. Indian Oil is already managing an oil farm in Trincomalee, together with Sri Lanka Petroleum. If we can link that tank farm with India, we may look at a refinery there. That integration will help our economy grow, because then we are linking with you. We are also supporting India, it's a win win. That has been the approach India has been taking under PM Modi leadership. Idea is that solutions should be all win-win, not just one side is just helping and that makes it sustainable.

Q: How do you plan to get more Indian tourists? EAM Mentioned about Rupay card..

Milinda Moragoda: There is already a marketing plan. Our tourism ministry is actually working on it, India is the main market. We are also looking at increasing connectivity and have been speaking to the leaders in the aviation sector here, to see what will it take for more Indian airlines to fly to Sri Lanka, what are the obstacles. It's important that there is connectivity and connectivity at an affordable price. I think a lot is being done. Sri Lankan Rupee has depreciated significantly last year, so it's cheaper than many Indian cities. So for someone living in Delhi, it's cheaper to fly to Colombo than to go to Chennai or Mumbai. You see that already in wedding tourism, Sri Lanka has become popular. Instagram has rated Sri Lanka as the most appealing destination for instagrammers, companies having corporate events–Sri Lanka is attractive. We already have some of your hotel chains here–Taj is there, ITC will open a top end hotel–similar to Mayura here towards the end of the year. A lot is being done for the promotion of tourism. You see, influencers, movie stars visiting Sri Lanka. There is a lot being done about it.

Q: We saw the visit of Chinese spy ship Yuan Wang 5 to Sri Lanka, it raised concern. Has any plan been put in place, if next time such a ship comes?

Milinda Moragoda: Basically, I can say, communication and trust– 2 angles that is what we are working on. To ensure transparent communication. When that incident happened, Sri Lanka was in crisis and the situation on the ground was very dysfunctional and chaotic. The lesson we have learnt is that we have to ensure that there is constant communication, unambiguous and frank communication. The other aspect is trust, that is where we are headed. You look at it, our president has said it, I have stated in various forums, India's and Sri Lanka's security are one. Security of India is security for Sri Lanka and security of Sri Lanka is security of India. Geographically that is where we are. In addition, fact is civilizationally, we are one. Our DNA is the same, so I think we will have ups and downs. Since Ramayana, our history goes back. We have to keep talking, be very frank, candid, and ensure we have to learn from our mistakes also. That is what we are trying to do.
Q: How is the defence partnership going? India had one Dornier last year, and talk on for another one?

Milinda Moragoda: We have been building it up, today we have around 400 Sri Lankan military persons being trained in India. In fact, we have the highest number of training berths for any foreign country in India. Before COVID we had 800. On maritime surveillance and Dornier, we already have one and in discussions about a second because that was part of the arrangement we agreed on. We are in negotiation but cooperation in maritime surveillance we are doing together. We have Colombo dialogue, in which we cooperate. In fact, the annual defence dialogue will be taking place this month between India and Sri Lanka, and we are trying to evolve it into a more strategic dialogue but that can be step by step but at the moment we can be happy about the work we are doing. India is becoming the main trainer for our security personnel, that is important. I think this will grow.

Q: So the Sri Lankan Defence minister will be coming to Delhi for the dialogue?

Milinda Moragoda: No, not at the moment. Defence dialogue will be at operational level, our defence minister is the President. When he comes to Delhi, he will have discussions at a high level.

Q: Coming back to the China question. Do you see, when it comes to Sri Lanka, its India Vs China in Colombo

Milinda Moragoda: We are living in a different geopolitical and geo economic environment as compared to 10 years ago. In the Indian ocean, there are tensions that we cannot ignore. Sri Lanka is a small country, we come as a football in a bigger game. So as i mentioned, on security we are very clear, Sri Lanka's security is India's security and India's security is Sri Lanka's security. Within this frame, we will deal with all the powers that are around, economic relations we have with China, US, Europe but Indo Lanka relationship I define it as a special relation. Emperor Asoka sent his son Mahinda to Sri Lanka with a message of Buddhism, and then his daughter and she started an order of nuns. This is the special relationship, your greatest emperor decides to send his son and daughter to Sri Lanks. That is the special and civilizational relationship, nothing can shake it, we will have disagreements, ups and downs but finally this is where we stand.

Q: Scrapping of the eastern terminal container puts a strain on the relationship not only with India, but the Japanese as well..

Milinda Moragoda: We had stresses in both relationships because of that particular issue. Trade unions objected to that particular eastern terminal being handed over to outsiders. They wanted it to be handed over to Sri Lanka port authority to develop on its own. So as an alternative we offered the western terminal, it is a deep-water terminal, with the same capacity, and Adani Group is developing that. They have already started dredging operations, so basically again we had a problem with them and again we offered something else. We are both democracies, and south Asian democracies are very untidy, you can't predict them. The govt was very keen on giving the eastern terminal but trade unions had different views, it was difficult to do that, so he said why don't you take the other one. Now that is happening, that is being developed. Japan is not part of that partnership; we hope Japan will be involved in other partnerships. India and Japan are trying to work together in Sri Lanka, but in democratic framework nothing is predictable.

Q: Since you mentioned Adani, are you worried given the current situation, it is in the headline?

Milinda Moragoda: As of now, not. That is a very good project, and the Adani group is very strong in that particular sector. It is interesting, statistics show 80% of trade done by Colombo port is transshipment business, 70% goes to India. Colombo port's main business is with India. 35% of that 70% is already going to Adani controlled ports. From Business point of view, it is a perfect fit. So therefore, we are not concerned about it.

Q: How do you plan to take forward plans to connect religious sites, also in Ayodhya, for the temple Shaligram has come from Nepal, any plans from Sri Lanka?

Milinda Moragoda: When I came to India, when I was appointed as High commissioner, even before presenting credentials, I visited Ayodhya with a Shila from Ashoka Vatika. We presented to the trustees of Ayodhya, and I spent time there. So that is the beginning of the relationship, and we will keep in contact and if we can help more. Ramayana circuit is important, our relationship starts. It's a key part of our tourism promotion, in fact when PM Modi was CM of Gujarat, I was the tourism minister. At his suggestion we started the Ramayana circuit all the way down to Sri Lanka and from Sri Lanka he wanted a Buddhist circuit going to Gujarat. We signed a MOU and plan is to continue that and look at the same MOU with other states. We have Ramayana, a Buddhist circuit and talks also of Shiva Shakti circuit with South India, Murugan circuit. So that civilizational and spiritual link is key. Other issues will settle if more people link it. That is the connection I want to push.

Q: India has been talking about 13th amendment, what is the status link

Milinda Moragoda: It is in the constitution of Sri Lanka, we have had provincial councils, but the problem has been since the war ended, the discussions among all communities to work together on consensus on the best model of devolution, that has been going on. It has been going on since Independence, we have not resolved it yet. President is trying to build that consensus. He has said the 13th amendment needs to be implemented, there are many against it, in a democracy there are many voices and finally politics becomes the art of the possible. That is the challenge. How to develop the consensus among all communities. The reality is the 13th amendment is in the constitution. Solution has to be democratic.

Q: Are Tamil parties on board?
Milinda Moragoda: There is debate and dispute, normal in democracy. Through the democratic process we have to find the solution. India has been encouraging settlement and handled it very well, advising, guiding but finally the solution has to come through the system. The 13th amendment is in the constitution, certain elements have had disputes. I see all this part of democracy; democracy means many voices. Sri Lanka is a polarised society, and we have to find a way to bring people together. President has been trying to do that.

READ | Meet US Congresswoman Ilhan Omar, controversial Modi critic who was ousted from US House Panel
https://www.dnaindia.com/world/report-india-supported-us-without-conditions-sri-lankan-high-commissioner-milinda-moragoda-3021500 Sri Lankan High Commissioner Milinda Moragoda