Asia
Taiwan reports 103 new COVID-19 cases, including 21 domestically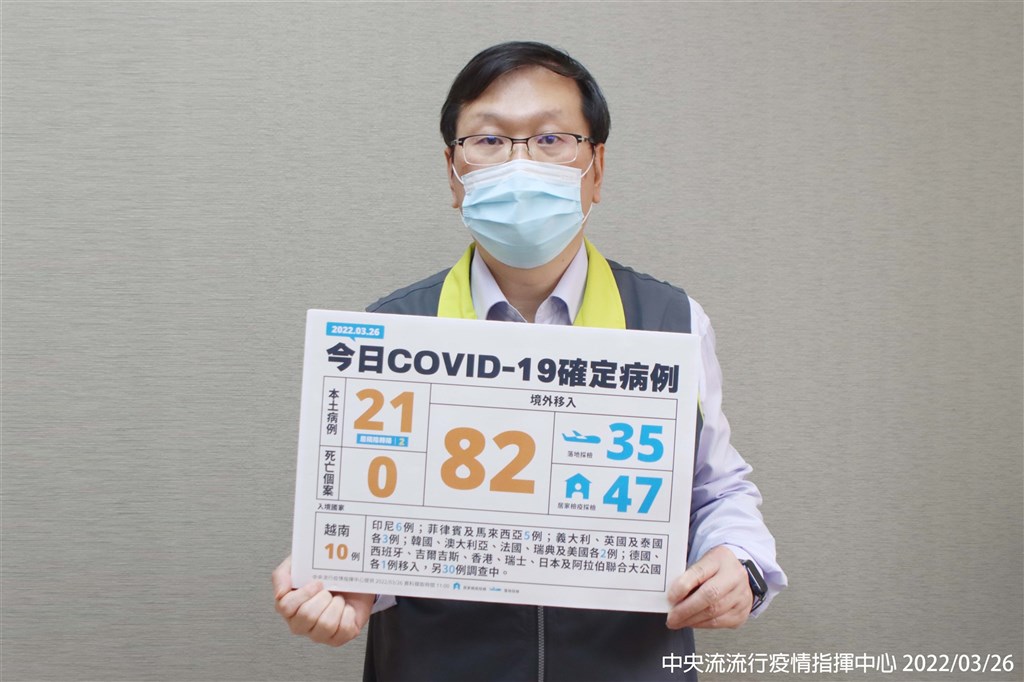 Taipei, March 26 (CNA) Taiwan reported 103 new COVID-19 cases on Saturday, 21 infected domestically and 82 overseas.
According to the CECC, 21 COVID-19 cases in the country ranged in age from teens to 70s, 20 of whom were contacts in recently identified cases.
Authorities are currently investigating sources of infection involving women in their thirties who have already been vaccinated twice with the Pfizer-BioNTech vaccine, the Epidemic Center said.
Meanwhile, 82 new import cases reported on Saturday consisted of 48 men and 34 women aged between 5 and 80 years.
From January 25th to March 25th this year, these individuals entered Taiwan from various countries such as Vietnam, Indonesia, Philippines and Malaysia. Thirty-five of them were virus-positive at the airport that landed in Taiwan.
CECC did not publish information on the vaccination status of imported cases.
To date, Taiwan has identified 22,566 COVID-19 cases, including 15,571 domestic infections since the pandemic began in early 2020.
No deaths were reported on Saturday, and the number of COVID-19 deaths confirmed in the country remained at 853.
related news
March 25: Taiwan reports new COVID-19 cases at New Taipei Factory and Keelung
March 24: CECC investigating new COVID-19 cluster at Kaohsiung plant
Recent cases
March 25: Taiwan reports 136 new COVID-19 cases, including 14 domestically
March 24: According to a Taiwanese report, 124 imported COVID-19 cases are recorded in one day.
March 23: Taiwan reports 97 new COVID-19 cases, including 2 domestically
March 22: Taiwan reports 98 new COVID-19 cases, including 5 domestically
March 21: Taiwan reports 98 new COVID-19 cases, including 5 domestically
https://focustaiwan.tw/society/202203260006 Taiwan reports 103 new COVID-19 cases, including 21 domestically