Asia
Taiwanese company supplying recycled plastic jerseys to FIFA World Cup teams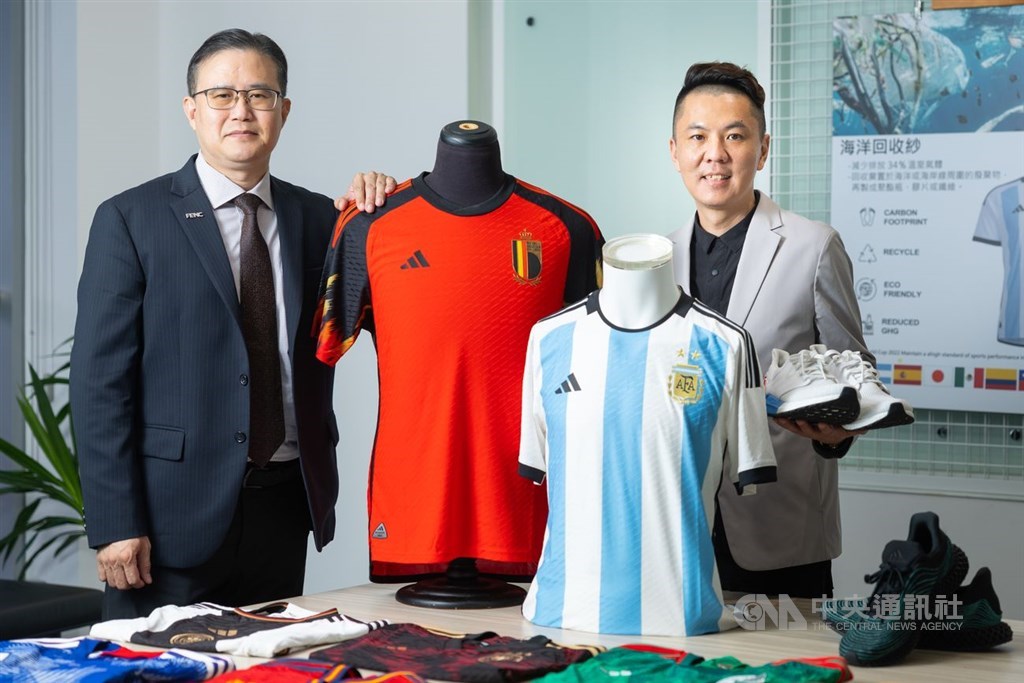 TAIPEI, Nov. 19 (CNA) Taiwan's leading textile supplier, which has long served as part of the FIFA World Cup supply chain, uses advanced technology to turn recycled plastic waste into jerseys and footballs. Converting it into commodities and leveraging it for a tremendous business. Opportunities at popular global sporting events.
Far Eastern New Century Corp. is one of them. The Taiwanese textile brand has worked closely with Pearly for the Ocean, an environmental group dedicated to saving the oceans, and adidas to roll out jerseys made from ocean plastic waste. .
In the upcoming World Cup, a total of nine teams will feature Far Eastern jerseys, seven of which (Germany, Japan, Spain, Argentina, Mexico, Belgium and Wales) have reached the main draw of the tournament.
The Mexican team has also been voted as the 'Best Dressed' team by the international news media.
"Mexico has never been short of strong designs, but even by its high standards, the 2022 kit is impressive," ESPN recently reported. "The detailed pattern that extends from the collar and spreads across the front of the shirt pays homage to Quetzalcoatl, the Aztec god whose name translates to 'feathered serpent,' grabs attention and refuses to let go." .
The World Cup is scheduled from November 20th to December. According to FIFA, the 18 in Qatar attracted a record 5 billion viewers worldwide and his opportunity to make hundreds of billions of dollars in business for suppliers of world cup goods. is expected to produce
Huang Chuanyi, manager of the Far East filament division, told CNA that his company has spent about seven years developing products from marine plastic waste, but this year the effort This is the first time that we have been able to demonstrate this when deploying products using recycled plastics at major international sporting events such as the World Cup.
Mr Huang said Far Eastern has been part of the World Cup supply chain for more than a decade and its products meet demand from all customers.
According to Huang, ahead of the World Cup and after repeated tests of material elasticity and dyeing for the 2022 competition, Far Eastern will use the recycled marine waste to create a team for FC Bayern Munich and Roy. Manufactured jersey for Yal Madrid.
Huang said Far Eastern should spend at least three years researching and developing new products before starting production. The company has his 200 his R&D experts.
Meanwhile, 55-year-old Shinkong Synthetic Fibers Corp. has played a key role in the World Cup supply chain for over a decade by developing sophisticated production technology and winning customer trust. , and Mr. Lo Shih-chuan ( Luo Shih 銓), Vice Chairman of Shin Kong's Decision-Making Committee.
Law said his company has been developing recycled yarns for many years and has developed a strong customer base with high loyalty, with recycled terephthalate (PET) bottles serving as the best production material for its products. I added that there are.
According to Lo, Taiwan's PET bottle recycling rate has reached 95%, the highest in the world, making PET bottles a stable raw material source for Shinkong.
According to Law, Shincon has patented its Syn Sigma 3.0 technology, which allows textiles made from recycled PET bottles to absorb water and dry quickly, a key requirement from athletes.
In addition, Mr. Lo said Shinkong's products are lightweight, non-transparent and have a low carbon footprint, which can meet the demands of environmental protection.
Law said Taiwan's textile industry is adept at integrating resources from upstream, midstream and downstream segments to produce yarns, fabrics and finished products to succeed in the global market. Cited the 2018 World Cup in Russia, where companies accounted for more than 80% of the supply chain.
https://focustaiwan.tw/business/202211190003 Taiwanese company supplying recycled plastic jerseys to FIFA World Cup teams