Asia
Thailand plans to treat COVID-19 as endemic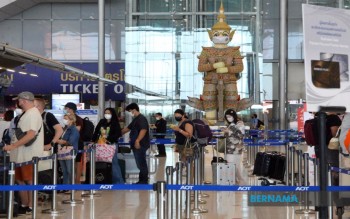 By Linda Khoo Hui Li
Bangkok, January 14-Thailand's Ministry of Public Health plans to treat COVID-19 as endemic this year as the fight against the fifth wave of coronavirus infection continues in the country.
Natapanu Nopakun, a deputy spokesman for the Ministry of Foreign Affairs, said that as Thailand entered its third year of fighting COVID-19, public health officials announced plans to effectively control the outbreak of COVID-19.
"Public health officials will manage this wave of infection to allow COVID-19 to transition to endemic as more people develop immunity," he said Friday's reporter. I mentioned at the press conference.
Meanwhile, Dr. Opas Karnkawinpong, Director General of Disease Control, said COVID-19 could only be epidemic if the virus is less severe and the vaccination rate is higher.
"We expect this disease to become endemic this year. It is neither today nor tomorrow. COVID-19 is considered endemic if it is controllable and has low case fatality.
"We are launching a public awareness (campaign) on how to live with COVID-19 as an endemic disease," he said.
He added that countries like the United Kingdom and the United States also predicted that COVID-19 could become endemic.
On Tuesday, the World Health Organization (WHO) warned against treating COVID-19 as an endemic rather than a pandemic because the spread of the Omicron variant is not yet stable.
-Bernama
---
Bernama is a reliable source of reliable, real-time, comprehensive and accurate news for both the general public and the media.Our news is published at www.bernama.com BERNAMA TV on: Astro Channel 502, unifi TV Channel 631, MYTV Channel 121 IFLIX; Bernama Radio is FM93. It is broadcast locally at 9.

Follow us on social media:
Facebook : @bernamaofficial, @bernamatv, @bernamaradio
twitter : @ bernama.com, @BernamaTV, @bernamaradio
Instagram : @bernamaofficial, @bernamatvofficial, @bernamaradioofficial
Ticktaku: @bernamaofficial
http://www.bernama.com/en/news.php?id=2043546 Thailand plans to treat COVID-19 as endemic