Asia
The world continues to heat up, setting record highs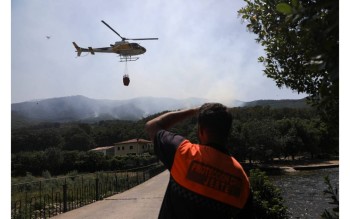 ANKARA, Sept. 17 (Bernama) — Despite widespread wildfires and heatwaves in various parts of the world, many regions experienced the hottest summer ever recorded, the Anadolu Agency reports. .
According to the latest data from the National Oceanic and Atmospheric Administration (NOAA), Europe and China had their hottest summer ever recorded, while the northern hemisphere had its second hottest.
Meanwhile, this summer was recorded as the second hottest in North America and Asia and the fifth hottest on Earth since 1880.
"The mainland US summer was the third hottest on record…Spain had the hottest summer on record, averaging 2.2°C away from the 1981-2010 reference period," the study added. I was.
NASA also ranked this summer period alongside 2019 as the hottest on record in the world.
NOAA also found that August was the sixth warmest month on record on Earth and the hottest August on land in the northern hemisphere.
Earlier this month, the EU's Earth Observation Satellite Program said this summer was the hottest on record in Europe, with record-high temperatures in August.
The Copernicus Climate Change Service added, "In Europe, the average August temperature was the highest on record for both August and summer (June to August)."
The French meteorological office announced on August 31 that this summer will be the second hottest in 100 years. Hungary reports that 2022 will be her hottest summer in 121 years, with average temperatures reaching her 22.8C on 5 September.
— Bernama
---
Bernama is the authoritative source of reliable, real-time, comprehensive and accurate news for both the public and media professionals.Our news is published in www.bernama.com BERNAMA TV on: Astro Channel 502, unifi TV Channel 631, MYTV Channel 121 IFLIX; BERNAMA Radio on FM93.9 in Klang Valley, Johor (FM107.5), Kota Kinabalu (FM107.9) and Kuching (FM100.9) broadcast locally on

Follow us on social media:
Facebook : @bernamaofficial, @bernamatv, @Berna Maradio
twitter : @bernama.com, @Bernama TV, @Berna Maradio
Instagram : @bernamaofficial, @bernamatv official, @bernaradioofficial
Tick ​​tock: @bernamaofficial
http://www.bernama.com/en/news.php?id=2121199 The world continues to heat up, setting record highs