Europe
There are 23,748 cases of coronavirus.Geographical distribution
Greek coronavirus cases have increased to a total of 23,748 reinfections of 3,664 in addition to 20,084 in the last 24 hours, health officials said Tuesday. During the same period, the number of deaths from covid-patients increased to 16. The number of intubations in the hospital ICU is 95.
Health experts warn about 25,000 or up to 30,000 infections per day.
Gkikas Majorkinis, a member of the Epidemiologists Committee, talked about an average of 20,000 to 25,000 infections. He emphasized leaving this possibility open if there are 250-300 Covid patients in the ICU, although no action is currently required, StarTV reported.
Dimos Tennis Saligianis, a professor of environmental engineering at the University of Aristotle in Thessaloniki, said: Real FMHe expects the pandemic summer wave to peak until mid-July, and expects infections to double each week.
He later said he hoped to lift the escalation, but emphasized that "the continuation of August will depend on the progress of the pandemic in the country of origin of tourists arriving in Greece on vacation."
Sarigiannis added that the increase in infections would lead to a rapid increase in hospitalizations in the normal Covid ward and ICU, and estimated that "400 intubated patients would be treated in the ICU by the end of July or early August." ..
EODY Bulletin June 28
The test lasts 24 hours: 180.545
PCR: 19,473, RAPID: 161,072
Positive PCR + fast: 11,12%
The National Health Care Organization (EODY) said on Tuesday that all infectious diseases identified since the onset of the pandemic were 3,644,889 (daily change: + 0.5%).
Reinfection
Reinfection Estimated by 3,664 In the last 24 hours, the total since the pandemic began is estimated to be 165,417 (4.3% of all positive results).
Rt: 1.32 (From 0.96 last week)

16 people died The total number of pandemic victims recorded in the last 24 hours is 30,206.. Of these, 95.7% had an underlying condition and / or were 70 years or older.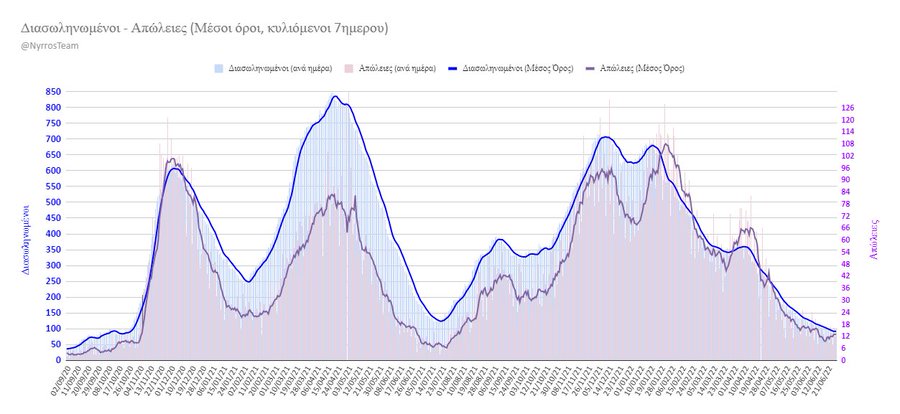 95 Covid-patients I am using a hospital ventilator. The median age is 71 years, with 91.6% having underlying illness or over 70 years.
Of the total intubation, 43 (43.16%) are unvaccinated or partially vaccinated and 54 (56.84%) are fully vaccinated.
Since the beginning of the pandemic, 4,726 people have been discharged from the ICU.
231 Covid-Patient Hospitalized in the last 24 hours (daily changes: +10.0%. The average hospital admission of Covid-19 patients over the last 7 days was 208.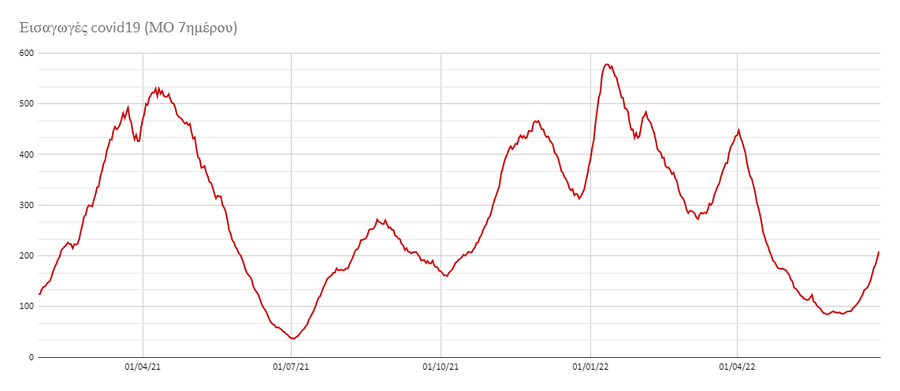 The median age of new infections is 37 years (range: 0.2 to 112 years) and the median age of the deceased is 80 years (range: 0.2 to 106 years).
Geographical distribution June 28

According to EODY with 23,748 coronavirus infections, two were "imported".
The remaining cases are:
12,606 Athens / Attica
1640 Thessaloniki
Other regions in alphabetical order (Greek):
AITOLOAKARNANIA 290
East Attica 1410
ΑΝDROS10
ΑRGOLIDA221
Arcadia 98
ARTA 63
Acaia 566
VIOTIA 135
Northern Athens 2273
Grevena 31
Drama 58
West Attica 398
Western Athens Sector 1506
ΕVROS145
EVIA 313
ΕΥRYTANIA3
Zakintos 115
ILIA 186
Imathia 107
Heraklion 858
Thassos 10
Thesprotia 44
Thessaloniki 1640
Thira (Santorini) 95
ΙTHAKI4
ΙΚΑRIA7
ΙOANNINA166
ΚΑVALA141
ΚΑLYMNOS28
ΚΑRDITSA114
ΚΑRPATHOS24
Kastoria 16
KEA – KYTHNOS 11
Central Athens 3669
CORFU 418
ΚΕFALLONIA87
Kilkis 53
Kozani 97
Corinth 228
ΚOS141
Laconia 71
LARISSA 512
Lasithi 227
Lesbos 67
Lefkada 30
Lemnos 17
Magnesia 174
Messenia 225
MILOS 40
ΜΥΚΟΝΟS73
Naxos 61
ISLANDS SARONIC GULF / Attica 152
Southern Athens Sector 1698
XANTHI 72
Paros 65
Piraeus 1500
Pella 64
Pieria 114
Preveza 68
RETHYMNO 179
RODOPI 70
Rhodes 405
Samos 31
SERRES 119
Sporades 29
SYROS 97
ΤINOS20
ΤRIKALA133
FTHIOTIDA 163
Florina 32
Phocis 24
Halkidiki 109
Chania 506
CHIOS 64
Under investigation 756
MAP to compare: Coronavirus infection per 100,000 population over the last 14 days
June 28
June 27
June 24
June 11
Greek EODY daily newspaper here..
Details of the Greek coronavirus here..
https://www.keeptalkinggreece.com/2022/06/28/greece-coronavirus-cases-rise-deaths-geogrpahic-distribution-warn/ There are 23,748 cases of coronavirus.Geographical distribution