Asia
Times are changing, workers have to adapt and NTUC needs to do more now: Ng Chee Meng – Mothership.SG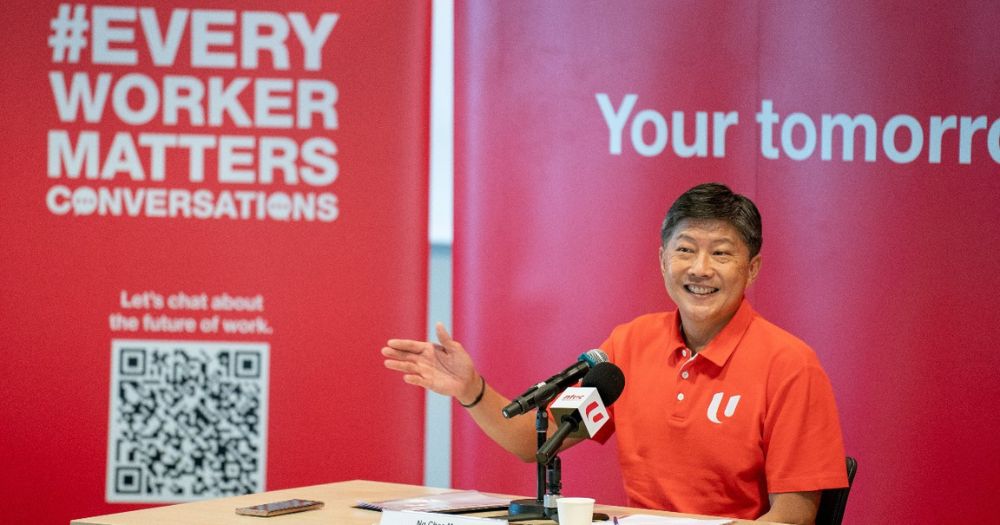 Follow us on Telegram for the latest updates: https://t.me/mothershipsg
The NTUC launched its #EveryWorkerMatters Conversations on August 12th. This is his year-long participatory exercise exploring issues ranging from his NTUC support for vulnerable workers in the gig economy to the needs of the young workforce of the future.
"We would like to hear their views and aspirations for a social contract around work, including the trade-offs and sacrifices each must make," said NTUC Executive Director Ng Chee Meng.
along exercise, Ng wrote a personal open letter addressed to all workers in Singapore. Ng's letter and video sharing about #EveryWorkerMatters Conversations were published on both NTUC and Ng. Facebook The morning of August 12th.
Here we reproduce the letter in full.
---
ngu qi men
Today, the economy is on everyone's mind. And for good reason.
The resurgence of the Covid-19 pandemic, combined with the war in Ukraine, has caused massive problems in the supply chain. These have contributed to pushing inflation to the ceiling. And everyday people like you are feeling the pressure. Through rising food prices. higher gas prices. Rising oil prices. And soaring electricity bills.
But we are not sitting around doing nothing. NTUC Fairprice keeps prices low on essential commodities and offers discounts to vulnerable groups to ease the financial burden. And other social enterprises such as NTUC FoodFare continue to provide workers with affordable meals and essentials.
What we face today is a real problem that needs immediate attention, but we also need to look at a much bigger challenge: the future of work.
Singapore has enjoyed strong and steady growth for almost 60 years. But our economy is now at a crossroads. Rapid advances in technology have changed how businesses work. This is causing anxiety among most of our workers.
Those who are agile, highly skilled and digitally savvy will be rewarded, while others may struggle to advance their careers. Social structures can fray. And I don't want that to happen. it's not my watch
NTUC takes steps to minimize this inequality. By launching our progressive wage model 10 years ago, we've helped transform work, upskill workers, and improve lives. But we need to do more now.
we have been tested. we have been tested. And we are stronger.
The Covid-19 pandemic has tried and tested Singaporeans. Many were protected through the Fair Reduction Framework. And when workers lost their jobs, the NTUC Job Security Council stepped in to assist them through training and placement. We also managed the Self-Employed Income Relief Scheme to help the self-employed get through these difficult times.
NTUC fought behind the scenes. for workers to remain employed. For employers to retain workers. For the government to support this initiative. And while we have grown stronger as a country, many of us have experienced hardships, which is why these two years have caused deep reflection within his NTUC. Agreement with all workers, about what needs to be done to strengthen the agreement. for the next ten years. For you.
Let's work towards a better future for workers.
Singapore has created more jobs, but are many Singaporeans still worried about employment? Will I have a stable and regular income? Are my job prospects good? Will my retirement be enough? Do employers understand that they need to take time off to care for aging parents? These are just a few of the questions on every worker's mind. And we want to address them.
We know we need to remain open to global investment, opportunities and talent to create good jobs and increase income for Singaporeans. Yes, the competition will be fierce. Yes our workers have to adapt. And yes, we will enable our economy to provide opportunities for all. Because employees don't just want to survive. We want them to thrive. That should be our mission. And everyone has a role to play.
NTUC helps workers keep their skills right, pursue training and find confidence in this decade and beyond. Unions and employers must proactively invest in their workforce to adapt to business changes. And it's not just finding new plug-and-play employees when your needs change.
Governments must also foster regulatory and financial conditions to support the achievement of social agreements with workers.
Together, we take this journey with you. Facilitate training, placement and conversion. Through social enterprises, the NTUC also acts as a price stabilizer in areas of new needs under the right conditions.
And we know we have the support of our tripartite partners. As with the 2022 May Day Rally, Prime Minister Lee Hsien Loong has said that the NTUC will act as a stabilizer for Singapore's economy and national cohesion. It emphasized that it is a "positive and valued partner" and plays an important role in representing the interests of different worker groups.
First step – start the #EveryWorkerMatters conversation
Yesterday I launched NTUC's #EveryWorkerMatters Conversations. It aims to engage Singapore workers, employers, government policy makers and partner organizations during his year. We want to hear their views and aspirations for social contracts around work, including the trade-offs and sacrifices each must make. I have.
First, how can you improve your employees' skills and enable them to compete in this new environment?
NTUC established the Corporate Training Commission (CTC) in 2019 to help companies transform, redesign jobs, and reskill workers. As of July 2022, over 1,000 of his CTCs have been established, covering 28 sectors. His more than 96,000 workers at participating CTCs have benefited from his NTUC training and placement ecosystem over the past two years. But more can be done to make Singapore workers and businesses more competitive through Singapore's green transition and digital transformation. Don't forget to invest in lifelong learning that enhances employability, placement and advancement.
We want to make sure workers get the financial support they need. Because the harsh reality is that many workers may face involuntary layoffs. A key question is how Singapore should provide stronger financial support in a way that rewards job seekers' strong work ethic to help them get through the tough times in their job search. That's it. Through the Professionals, Managers and Executives (PME) Task Force she has strong support for this with over 10,000 people involved.
We also want to ensure a level playing field to encourage Singapore workers to have confidence in the system and give their best. Efforts are underway to get anti-discriminatory practices into law to punish bad employers, but how can we strengthen practices on the ground so people can be confident that the employment landscape is fair? Good? The NTUC is also working with the government to develop a new Complementarity Assessment Framework for Employment Paths (COMPASS). We would love to hear how foreign workers best complement the local workforce.
Second, how can you provide stronger guarantees to support your employees as their life needs evolve?
It launched the NTUC Youth Task Force earlier this July as a dedicated effort to ensure young people receive better support in their careers and hear how they can prepare for long-term career success. It's also the reason why.
As the population ages, employees will have to juggle work while caring for aging parents. These needs and stresses will continue to grow. So let's look at how we can better support elderly care. This allows employees to successfully balance career and caregiving responsibilities.
NTUC is also committed to finding ways to leverage the strengths of its mature workforce to participate in meaningful roles as the industry transforms. But I would also like to hear how workers can ensure that they have sufficient basic retirement benefits.
Third, how can vulnerable workers be protected?
For low-wage workers, NTUC works with partners to implement PWMs to ensure productivity-linked wage increases. PWM represents our collective desire to reduce inequality, transform work and create more avenues for progress. While protecting the workers who need our help. PWM is already being rolled out in several sectors, is it likely that PWM will cover more sectors, businesses and even middle-income jobs?
The gig economy poses new questions about balancing independence and security. For vulnerable self-employed and freelancers, NTUC is working through its Advisory Board on Platform Workers. We also want to hear workers' views on improving the adequacy of employee representation, severance pay and housing, and increasing protection against workplace injuries.
Every voice matters in the #EveryWorkerMatters conversation
On behalf of NTUC, I would like to invite employees, employers, government policy makers and partner organizations to join us in #EveryWorkerMatters Conversations. These conversations help NTUC understand employee concerns, priorities and aspirations.
Through these conversations, we want to hear what each of us is willing to sacrifice to reach our goals at work. The role employers, unions and governments will play today, tomorrow and for years to come is foreseen. And what values ​​should guide how Singapore's social pact on work and employment evolves?
You can then collaborate on the solution. to support you. to move forward together. Shaping the future of work with our Social Compact.
Our ultimate goal is simple. So that workers can do work that they can be proud of. protect the lives of workers. To provide workers with a better future, better jobs and a better life. Because every worker matters. to me. and NTUC.


https://mothership.sg/2022/08/ng-chee-meng-open-letter-ntuc/ Times are changing, workers have to adapt and NTUC needs to do more now: Ng Chee Meng – Mothership.SG