Middle East
TMREIS Welcomes Intermediate Students to Secure Top Ranks
Hyderabad: The Telangana Minorities Residential Educational Institutions Society (TMREIS) honored the top performers in the Intermediate 1st and 2nd grade exams here on Saturday.
According to the press release, 31 TMREIS 7th and 8th graders achieved top positions in the general and vocational streams.
G Peysush of TMRJC Barkas Boys College and Mogul Samreen of TMRJC Khammam advanced to the second year of the MPC with scores of 988 and 987 out of 1000 respectively.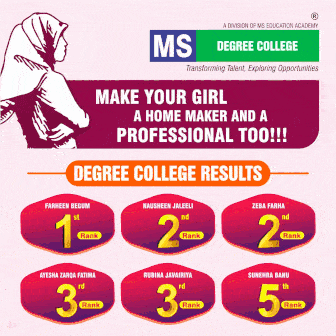 Similarly, Abhigna of TMRJC Nizamabad and Nusrath of TMRJC Bahadurpura topped the BiPC stream with 985 and 983 out of 1000 points respectively.
Also, 25% of students in 7th grade scored 95% or higher. In polycet, TMRJC institution students secured 90% of him.
Koppula Eshwar, Minister of State for Minority Welfare, SC Development and Elderly Welfare, congratulated the students by presenting all 31 meritorious candidates with certificates of appreciation and cash prizes of Rs.20,000.
please subscribe
https://www.siasat.com/telangana-tmreis-felicitates-intermediate-students-for-securing-top-ranks-2384755/ TMREIS Welcomes Intermediate Students to Secure Top Ranks