Asia
Typhoon Muifa Brings Heavy Rains to Northern and Central Taiwan: CWB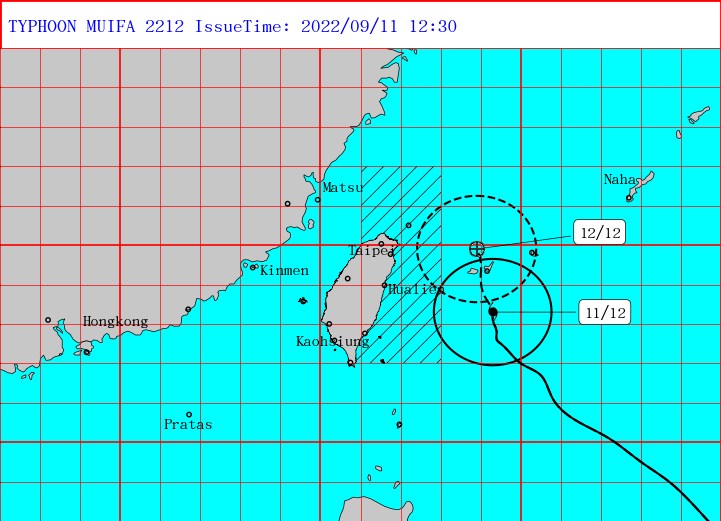 TAIPEI, Sept. 11 (CNA) Heavy rains are likely to continue in northern and central Taiwan on Monday as Typhoon Muifa approaches Taiwan, the Central Weather Bureau (CWB) said.
The bureau warned that New Taipei and Taoyuan could see "extremely heavy rainfall", forecasting cumulative rainfall of more than 200mm in 24 hours and more than 100mm in three hours.
In Taipei, Taichung, Keelung City, Yilan County, Hsinchu County, Miaoli County, and Nantou County, there is a risk of "heavy rain" of 80mm or more in 24 hours and 40mm or more in an hour. CWB said.
As of 8 p.m. Sunday, New Taipei's Wulai District topped the nation with 300 mm of accumulated precipitation, official data showed.
According to CWB, Typhoon No. 19 was located 340 kilometers east-southeast of Taipei at the time and was moving north at 9 kilometers per hour.
The agency said there were gusts of up to 155 kilometers per hour, gusts of up to 191 kilometers per hour, and winds with a radius of 150 kilometers.
The typhoon is likely to make its closest approach to Taiwan over the next two days, but the likelihood of issuing a weather warning is forecast to be low.
But the Department of Transportation warned that it would not rule out temporary closures of State Routes 7 and 9A in the mountainous region.
Meanwhile, the CWB said a tropical cyclone over 4,000 km east of Taiwan could develop into Storm Marbok within the next 24 hours.
The agency predicted Merbok would remain in the region before moving north until Tuesday and would not affect Taiwan or interact with Muifa.
related news
September 11th: Shimen Reservoir begins to discharge water as typhoon approaches
September 11th: Taiwan issues maritime warning for Typhoon Muifa
September 5th: Keelung water restrictions eased after typhoon brings rain
September 3rd: Taiwan issues landfall warning for Typhoon Hinnamnor
Setting 2: Taiwan issues first maritime warning for 2022 as Typhoon Hinnamnor approaches
August 30th: Taiwan sees mild autumn with 1-2 typhoons: CWB
August 26th: July rainfall hits lowest level in 15 years due to typhoon
https://focustaiwan.tw/society/202209110017 Typhoon Muifa Brings Heavy Rains to Northern and Central Taiwan: CWB