America
US FDA grants Pfizer and Moderna COVID-19 vaccine to 6-month-old children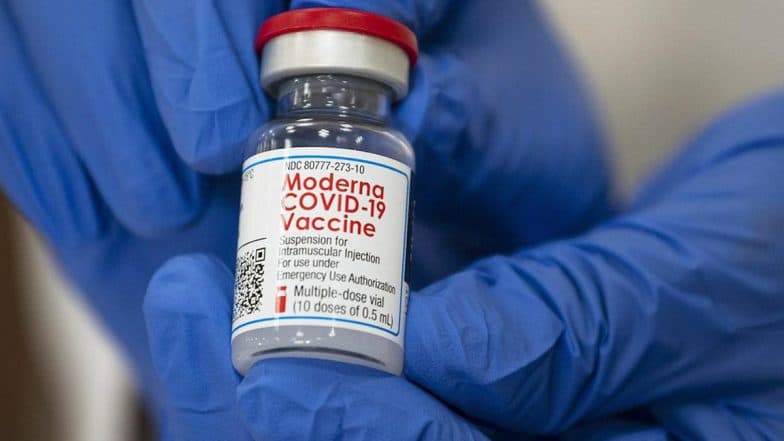 Washington, June 18: The US Food and Drug Administration (FDA) is the first child in this age group to approve the emergency use of the Moderna and Pfizer-BioNTech COVID-19 vaccines for 6-month-old children.
For the Moderna vaccine, the FDA amended the Emergency Use Authorization (EUA) on Friday to allow individuals aged 6 months to 17 years to use jabs, according to the Xinhua News Agency. US FDA lifts clinical trials of Bharat Biotech's COVID-19 vaccine covaxin in the US
The vaccine was previously approved for people over the age of 18.
For the Pfizer-BioNTech vaccine, the FDA has modified the EUA to use jabs for individuals aged 6 months to 4 years.
The vaccine was previously approved for use by individuals over the age of five.
The FDA said the safety, efficacy, and production data assessment and analysis of these vaccines are rigorous and comprehensive and support the EUA.
Authorities have determined that the known potential benefits of the Moderna and Pfizer-BioNTech COVID-19 vaccines outweigh the known potential risks in the pediatric population allowed to use each vaccine.
The Moderna vaccine is given as two initial doses at monthly intervals.
The Pfizer-BioNTech vaccine is given as a major series of three doses, with the first two doses at 3-week intervals and the third dose at least 8 weeks after the second dose.
The FDA's decision came after an advisory meeting that resolved to recommend two vaccines earlier this week.
The advisory board meeting was part of a transparent process to ensure that the public had a clear understanding of the safety and efficacy data supporting the approval of these two vaccines for the pediatric population. Peter Marks, director of the FDA's Center for Biologics Evaluation and Research, said. On Friday.
"Those who trust in the care of their children can be confident in the safety and efficacy of these COVID-19 vaccines and can be confident that the authorities have thoroughly evaluated the data," FDA Robert said.・ Calif said in a statement.
The Centers for Disease Control and Prevention (CDC) will convene an advisory meeting on Saturday to vote on guidelines for pharmacies and clinics to give shots.
CDC Director Rochelle Walensky needs to approve these guidelines before children start receiving shots.
The White House expects vaccination to begin on June 21st.
According to Ashish Jha, who oversees the Biden administration's response to COVID-19, the schedule may be limited at first, but all parents who want to vaccinate their children should be able to get it within a few weeks.
(The above story was first published on June 18, 2022 at 10:56 am IST. Log on to our website for news and updates on politics, the world, sports, entertainment and lifestyle. please. latestly.com).
function loadAPI() {
var js_fb = document.createElement('script');
js_fb.src="https://connect.facebook.net/en_US/sdk.js#xfbml=1&version=v3.3&appId=224265671451116&autoLogAppEvents=1″;
document.body.appendChild(js_fb);
}
var a_fb=1;
document.addEventListener('scroll', function(e) {
if(a_fb == 1){
a_fb=2;
loadAPI();
//vdo
(function(v,d,o,ai){ai=d.createElement('script');ai.defer=true;ai.async=true;ai.src=v.location.protocol+o;d.head.appendChild(ai);})(window, document, '//a.vdo.ai/core/latestly/vdo.ai.js');
//colombai
try{
(function() {
var cads = document.createElement("script");
cads.async = true;
cads.type = "text/javascript";
cads.src = "https://static.clmbtech.com/ase/80185/3040/c1.js";
var node = document.getElementsByTagName("script")[0];
node.parentNode.insertBefore(cads, node);
})();
}catch(e){}
}
});
https://www.latestly.com/world/us-fda-authorizes-pfizer-and-moderna-covid-19-vaccines-for-kids-as-young-as-6-months-3841612.html US FDA grants Pfizer and Moderna COVID-19 vaccine to 6-month-old children