America
US is trying to add India for NATO Plus, says US MP Ro Khanna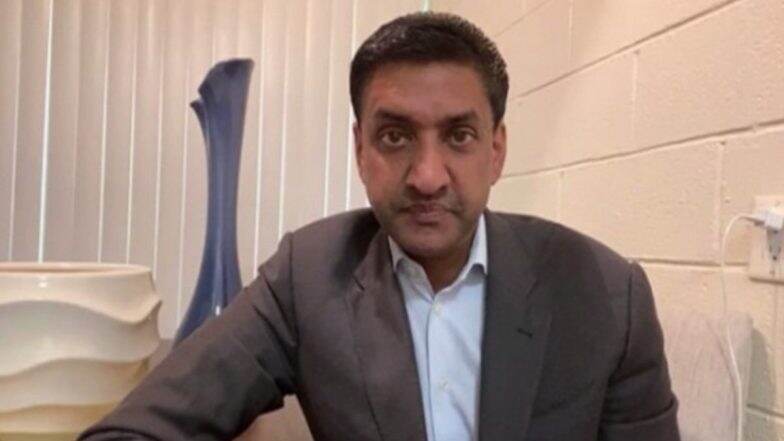 Washington, July 27: By adding India as the sixth country to the North Atlantic Treaty Organization (NATO), New Delhi will move towards a defense and security partnership with the United States. "
In an exclusive interview with ANI, Kanna said NATO's allies were swiftly approved for the defense pact, and that the United States has the same agreements with Australia, Japan, New Zealand, Israel and South Korea.
"I have been trying to add India as the sixth country to it, which will facilitate and facilitate this growing defense partnership and ensure India to move towards a defense security partnership with the United States. Russia. I introduced it two years ago. I will continue to work on it. Hopefully we will be able to pass the amendment in subsequent parliament, "he adds. I did. This is a historic amendment to strengthen US-India relations since civilian citizenship.
This was after the US House of Representatives approved an overwhelming majority of revisions to the National Defense Authorization Act (NDAA) on July 14, proposing deepening of defense relations between India and the United States. This amendment was provided by Kanna, a progressive Democrat in California.
Kanna talks about the waiver of US national security interests, saying that strengthening US-India relations has been the most important vote since the private nuclear deal, which was passed by overwhelmingly 300 bipartisan votes. I revealed.
"The reason it benefits the United States is that it needs a strong partnership with India. Defense partnerships, strategic partnerships, especially when we are two democracies, with the rise of China and the rise of Putin, this alliance Is important. For the United States. "
The US-India Nuclear Cooperation Agreement was signed in 2008 under the UPA government led by Manmohan Singh, and has wiped out the rising relations between the two countries since then. A key aspect of the US-India Nuclear Agreement was that the Nuclear Suppliers Group (NSG) gave India a special exemption, which allowed India to sign cooperation agreements with 12 countries.
This allowed India to separate civilian and military programs and place private nuclear facilities under the safeguards of the International Atomic Energy Agency (IAEA).
The NDAA amendment is politically important, and an overwhelming 300+ bipartisan vote sends a strong message to U.S. President Joe Biden, who will give him political support to abandon sanctions. ..
Kanna is coordinating and discussing with senior White House officials.
In an interview, Kanna said that India's exemption from the US sanctions law (CAATSA), which imposes penalties on countries engaged in important defense transactions with Russia, against US opponents is a US-India defense partnership. He said it was the greatest national interest.
"If the White House hadn't been opened to its passage, the amendment would never have passed," Kanna said, waiving sanctions on his political support, US President Joe Biden. He added that he gave it. It almost ensures that he will waive sanctions.
But the amendment is not yet part of the law. The NDAA amendment must pass the Senate and be signed by President Joe Biden. Otherwise, India will circumvent US sanctions on its weapons system relations with Russia.
Kanna told ANI that Congress gave the US president a "very clear and reverberant message."
The relationship between the United States and India is important. It says sanctions should be exempted. And it gives the President of the United States a very clear and reverberant message to abandon sanctions. "
Recently, the two democracies have made great strides in defense cooperation, and the revision of the NDAA will be a major impetus for building a strong Indian-US defense partnership. The CAATSA exemption to India is in the US national interest and requires a strong partnership: US Congressman Ro Khanna.
Kanna told ANI about it: "It's not just about sanctions. We're talking about the importance of strengthening our defense partnership with India. The challenge is that Russian weapons are cheap so far, but Russian weapons. Is also inferior as seen in the war in Ukraine. In my view, the SU 57 simply cannot compete with the F22 or F35, or US military equipment. It is in the US interest to acquire talent. Will be from India's talented engineers and scientists to ensure that we continue to lead the best technology, and ultimately to India's American technology, which is superior to Russian technology. I'm interested. "
He said the United States has come up with ways to protect the sensitive technology of the United States and set appropriate prices to motivate India to transition to which it will be negotiated through bilateral communication.
Regarding China's threat to India highlighted in the amendment, Kanna told ANI, "You see India as a threat facing the border, and know that the largest security guarantor was the United States. A. A few years ago, the United States supported India in these border skirmishes, so in my view the US-China alliance is not only in the interests of the United States, but also in the interests of India's security, and the United States is far more. Reliable and stronger partner. "(ANI)
(This is an edited and auto-generated story from the Syndicate Newsfeed. LatestLY staff may not have modified or edited the content body)


https://www.latestly.com/agency-news/world-news-us-seeks-to-add-india-for-nato-plus-lawmaker-ro-khanna-4002099.html US is trying to add India for NATO Plus, says US MP Ro Khanna