America
US President Joe Biden announces US strengthening of NATO troops in Europe to address threats in the conflict between Russia and Ukraine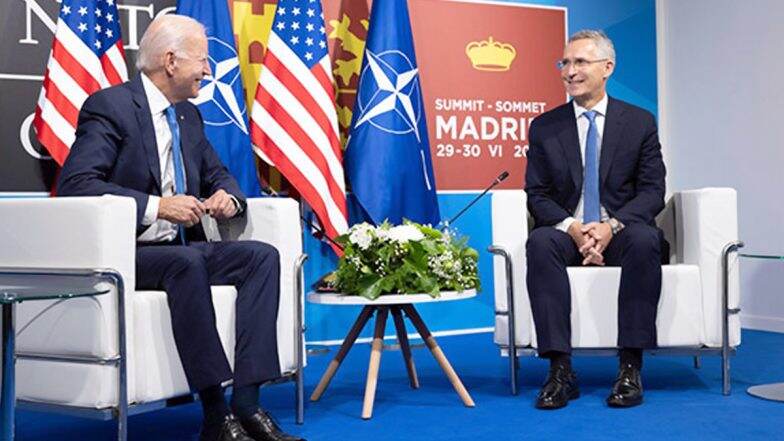 Madrid, June 29: US President Joe Biden said on Wednesday that the long-awaited transatlantic summit began in Madrid in the midst of a fierce conflict in Ukraine, and NATO troops in Europe to address threats across all territories of land, air and sea. Announced significant US strengthening.
Biden addressed with NATO Secretary-General Jens Stortenberg, proclaiming new military movements, equipment transport and military installations during the Russia-Ukraine War.
"The United States and our allies are strengthening and demonstrating that NATO is more necessary and more important than ever," Biden was reportedly told by CNN.
Biden said the United States plans to establish a permanent headquarters for the Fifth Corps in Poland and maintain an additional revolving brigade of 3,000 troops in Romania.
In addition to this, Washington will strengthen its revolving deployment to the Baltic States, send additional F-35 fighter squadrons to the United Kingdom, and deploy additional air defense and other functions in Germany and Italy.
"With our allies, we will enable NATO to respond to threats from all territories, land, air and sea," Biden said. U.S. President Joe Biden has signed a bipartisan gun violence bill, stating that "life will be saved."..
Biden also announced Washington's plans to build air defense capabilities in Germany and Italy.
Biden told bystanders of the NATO summit in Madrid, "We will send two additional F-35 squadrons to the United Kingdom to deploy additional air defense and other capabilities in Germany and Italy."
Biden also added that the United States plans to step up alternate deployments in the Baltic States and increase the number of destroyers based at the Rota Naval Base in Spain to six.
The NATO summit began on Tuesday in Madrid, allowing the Western military alliance to show a joint front against Moscow and initiate the process of Finland and Sweden joining the alliance.
The summit will be held when Turkey lifts the veto of Finland and Sweden to join NATO and ends the dispute that tested the unity of the alliance in the Ukrainian conflict.
The deal shows that the Nordic countries have abandoned decades of neutral nations to join the military alliance, resulting in major changes in Europe's security dynamics.
Finland's President Sauli Niinistö said on Tuesday that Turkey had agreed to support Finland and Sweden's NATO accession bid, removing major hurdles for both countries participating in the alliance.
Niintso said a joint memorandum of understanding on this issue was signed in Madrid by Turkey, Finland and Sweden. The Joint Memorandum emphasizes Finland, Sweden and Turkey's commitment to "expand full support for threats to each other's security," Niinistö said.
"The specific procedure for joining NATO will be agreed by NATO allies in the next two days, but the decision is now imminent," he added.
Stoltenberg said he was "confident" that Finland and Sweden would be able to successfully participate in NATO after signing the Trilateral Memorandum of Understanding. (ANI)


https://www.latestly.com/agency-news/world-news-at-nato-summit-biden-announces-us-reinforcements-of-nato-forces-in-europe-3887195.html US President Joe Biden announces US strengthening of NATO troops in Europe to address threats in the conflict between Russia and Ukraine