Asia
Widodo outlines three foundations for increasing Indonesia's competitiveness.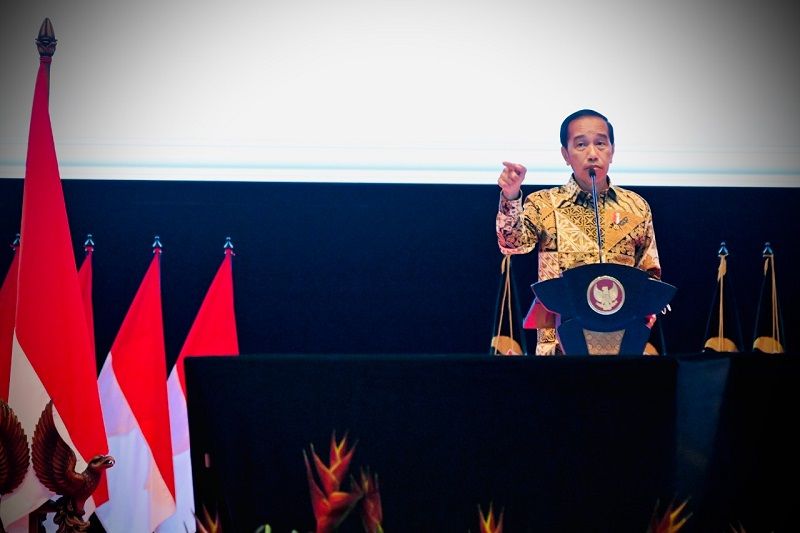 In the future, big nations will not beat small nations, nor rich nations will beat poor nations.The competition is fast nations beating slow nations and to be fast you need these foundations that we're working on
JAKARTA (Antara) – President Joko Widodo (Jokowi) has identified infrastructure, downstream and industrialization, and digitalization as three foundations to boost Indonesia's competitiveness.
"In the future, big powers will not beat small ones, and rich countries will not beat poor ones. We need these foundations that are in place, he said at the 2022 National Veterans Association National Assembly held in Sentul, West Java on Friday.
The president said that the benefits of infrastructure development will not be seen immediately, but will be seen in the next five to 10 years.
"Over the past seven years, we have added 2,042 kilometers of toll roads, 5,500 kilometers of toll roads, 15 new airports, 18 new ports, 38 new dams and 1.1 million hectares of new irrigation. It's our base for other countries," he said.
related news: Pos Indonesia expands services to nickel transportation
He said Indonesia "didn't dare" to go downstream and industrialize for a long time.
He pointed out that since the Dutch East Indies' VOC era, exports have always been in the form of raw materials, with little infrastructure for industrialization.
"We have been exporting nickel for many years and its value was US$1.1 billion (approximately Rp15 trillion) in 2014. If we stop exporting in 2017, our exports will reach over Rp300 trillion in 2021. It's one product," he emphasized.
He stressed that the government is not afraid of the European Union's filing with the World Trade Organization (WTO) after it suspended exports of some raw materials such as tin, bauxite and copper.
related news: The government plans to build a soccer training center at IKN Nusantara.
"Copper (exports) have been stopped, bauxite has been stopped. This will help the economy and create as many jobs as possible," he added.
Furthermore, Mr. Widodo said small and medium enterprises (MSMEs) need courage to enter the digital platform.
"There are 65.4 million MSMEs contributing 61% to our economic growth. Let's not forget these little things. Therefore, we will continue to encourage them to enter the digital ecosystem, which is a strong foundation for the Indonesian economy." he said.
related news: About the situation of the world economy due to inflation: President
related news: President Jokowi Admits Inadequate Pensions for Retirees
https://en.antaranews.com/news/243049/widodo-outlines-3-foundations-for-boosting-indonesias-competitiveness Widodo outlines three foundations for increasing Indonesia's competitiveness.