Europe
Yan Luyuan, a real estate tycoon who invested 3 billion yuan to buy 30,000 paintings, died
Ryurantei
Real estate mogul and art collector Yan Lugen, who was chairman of YJ Cyprus Group, died in New York on September 5th. He was 67 years old.
Having built a business empire from the ground up, Yang was the founder of Nanjing Liyuan Group, chairman of Baijiafu International Cultural Investment Group, chairman of YJ Cyprus Group and founder of Art 100.
The Godfather of Nanjing Real Estate
Born in 1956, worked as a journalist for 8 years, but changed jobs after buying a book called "House Care Manual". After days and nights of research, Yang founded his first real estate company, Baijiahu Real Estate Company.
In Nanjing, China, the Baijiahu project he built is home to more than 600,000 people, 10% of the city's population. This project became China's most successful development project and included the creation of a lake. Baijiahu Real Estate, led by him, was the originator of creating lakes in Chinese cities. He is also called the "Godfather of Nanjing Real Estate" by the real estate industry.
Since 2018, when YJ Cyprus Group and ART 100 were founded, Yan has become actively involved in Cyprus real estate. He has purchased and developed ultra-luxury hotel suites in the most spectacular locations in Cyprus.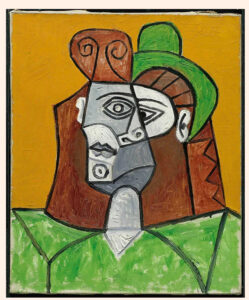 Chinese with the most Picasso works
Yan Lugen is more widely known as an art collector than a real estate mogul.
In the 1990s, he began his "Art Collection Journey", collecting works by Chinese artists such as Qi Baishi, Zhang Daqian, and Xu Beihong, as well as overseas artists such as Picasso and Monet.
In 2007, he spent over $8 million to buy Picasso's work. Woman in green hat. Maya Widmeier Picasso, Picasso's eldest daughter, told Sotheby's executives: want to meet soon. "
His collection is worldwide. In 2016, he purchased more than 50 works by Picasso and more than 3,000 of his oil paintings by European masters from the 13th to the 18th century, such as Rubens and Magellan.
Ambition to build an ART center in Cyprus
An ardent supporter of China-Cyprus friendship, Jan Rugen possessed strong will, tenacity, conviction and inexhaustible energy, always maintaining a passion for improvement.
As the founder of Art 100 in Cyprus, Yan Lugen put forward many bold and bright ideas and had a vision to build Cyprus as the art hub of the Mediterranean region.
He has held several art exhibitions in Cyprus and China, not only promoting cultural exchanges between the two countries, but also helping to enrich the art capital of Cyprus. , always focused on the idea that art should be accessible to everyone.
Yang leaves behind his wife, daughter, grandson and granddaughter.
Jan Rugen: Born December 7, 1956. Died: 09/05/2022
https://cyprus-mail.com/2022/09/10/yan-luge-a-real-estate-tycoon-who-spent-3-billion-rmb-to-buy-30000-paintings-passed-away/ Yan Luyuan, a real estate tycoon who invested 3 billion yuan to buy 30,000 paintings, died